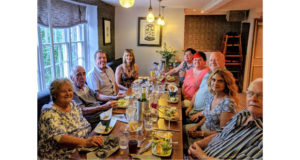 Dennis and Beryl Wall, a local Norwich couple, returned to the Lamb Inn, in Lamb Yard, last week, 60 years after hosting their wedding reception at the pub.
The couple were invited back to the pub after managing operator, Stonegate Pub Company's CEO, Simon Longbottom, noticed their story in the local paper. After tracking them down, the company offered Dennis and Beryl a complimentary Anniversary Dinner at the Lamb Inn, where they enjoyed a three-course meal in the pub's private function room, surrounded by their close family.
After meeting at a bus stop in 1956, Dennis and Beryl were married two years later at Tudor Hall Registry Office. In the six decades since, they have had four children and now boast 10 beautiful grandchildren.
"Stonegate's values as a company are deeply rooted in our pubs' local communities," said Colin Hawkins, Operations Manager of the Lamb Inn, "it brings us great joy to share in the celebrations of such an important milestone in our customer's lives. Congratulations Dennis and Beryl!"
Dennis shared these comments with Oliver McErlain, the Manager of the Lamb Inn: "We wish to take this opportunity to thank and praise the management and staff at the Lamb Inn for making this such a wonderful experience. The private room was wonderful, and the meal and drinks were served to perfection by very attentive, friendly and professional staff who went out of their way to make our visit very enjoyable."
Mr and Mrs Wall still live in Norwich, where they have spent their lives together, enjoying their large family and spending their time gardening.