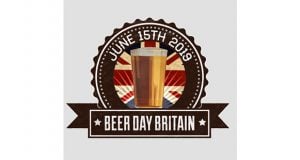 The great British Public are being invited to celebrate Britain's national alcoholic drink and spread beery love throughout the land by joining the National Cheers To Beer at 7pm (19.00h) on June 15th as millions of people across the country raise a glass, say 'Cheers to Beer' and post a message on social media with the hashtag #CheersToBeer.
Beer Day Britain has been a resounding success since it first took place in 2015 supported by all sectors of the brewing, pub, and beer retailing industries, and is very popular with beer drinkers. The purpose of Beer Day Britain is for people to drink beer ideally in the pub, for the country to have a national party and celebrate the national drink. The annual celebration is held on June 15th 2019.
Why June 15th? Well, June 15th is significant because that is also the date Magna Carta was sealed in 1215. The great charter mentions ale in Article 35.'Let there be throughout our kingdom a single measure for wine and a single measure for ale and a single measure for corn…..'
Ale was so important in England in 1215 that it was cited in one of the most significant legal documents in history. Today beer and pubs are still central to British life and seven out of 10 drinks sold in a pub are beer.
How can people join in on Beer Day Britain?
Go to the pub and join in the National Cheers to Beer at 7pm.   This entails people raising a glass, saying Cheers To Beer and using social media with the hashtag #CheersToBeer. The National Cheers to Beer always trends on social media. In 2018 there were 8.25 million social media engagements. On Twitter Beer Day Britain 2018 knocked the FIFA World Cup into 2ndplace and was even trending the following day.
Tell friends and social media followers about Beer Day Britain and encourage them to go to the pub, ideally a Cask Marque accredited pub and join in the celebrations. To find your nearest Cask Marque accredited pub download the free Cask Findersmart phone app.
Jane Peyton, instigator and project manager of Beer Day Britain commented 'We have so much to be proud of with Britain's vibrant brewing heritage and current brewing scene and the fact that our pubs are a cornerstone of the social life of the nation. Seven out of ten drinks sold in a pub are beer and a big percentage of that is cask ale. Without beer, pubs would be wine bars. Now we have an official day to celebrate beer in Britain so please join us for a national party so we can make Beer Day Britain the best beer fiesta in the world!'