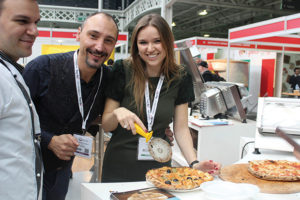 The 3rd European Pizza and Pasta Show, 13-15 November 2018 at Olympia National Hall in London, promises to bring together the best in the industry of pizza and pasta from UK, Europe and beyond.
With over 100 companies exhibiting 600+ brands, the three day exhibition is the definitive gathering for pizza, pasta, bakery, speciality and premium foods and ingredients producers, suppliers, distributors, food experts, restaurants, large operators, public services, HoReCa buyers, as well as 700+ chefs from all over Europe.
Organised by IPR Events London in association with PAPA – Pizza, Pasta and Italian Food Association, The European Pizza and Pasta Show 2018 promises to be the most interesting, diverse and dynamic industry event so far.
For all professional chefs the organisers have designed an exciting programme of cooking presentations and world class competitions. On the 14th of November visitors and exhibitors are invited to a Master Class with the award-winning chef and restaurateur Aldo Zilli, who specialises in Italian, vegetarian and seafood cuisine.
The European Pizza Championship, part of Pizza Senza Frontiere, will be hosting a record number of chefs competing for the coveted title of European Pizza Champion 2018.
The third day of the show will see 140 UK chefs competing for the 2018 PAPA (Pizza, Pasta and Italian Food Association) Pizza and Pasta Chefs of the year Awards. Lead by the judges – Theo Randall, a British-born professional chef specialising in Italian cuisine, joined by Enzo Oliveri, an Italian-born celebrity chef, Terry Wiggins MBE – Head Sous Chef at the House of Commons and Michael Eyre – Culinary Director Jestic Foodservice Equipment, the competitions will set a new benchmark for Italian cuisine in the UK.
Register to visit at pizzapastashow.com and join us at Olympia National Hall London!