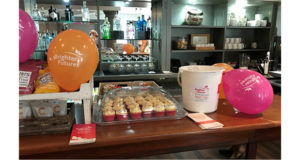 The DoubleTree Hilton Hotel in Swindon has raised an impressive £250 for NHS-affiliated charity Brighter Futures by holding a delicious bake sale.
Staff from the hotel worked hard to bake and bring in their sweet treats for guests and visitors to purchase and indulge in, while also raising money for Brighter Futures' Radiotherapy Appeal.
The charity is hoping to raise £2.9 million to provide much-needed radiotherapy services in the hotel's hometown, Swindon.
Such services are vital for cancer patients in the vicinity, who currently have no choice but to make a return journey of 70 miles to Oxford, Cheltenham or Bath in order to receive life-saving radiotherapy treatment. In partnership with Oxford University Hospitals NHS Foundation Trust, Brighter Futures hopes to cut this journey down significantly by delivering the treatment in Swindon itself.
So far, the charity have managed to raise over £2,437,770, meaning their goal is in sight.
Adam Flint, general manager of the DoubleTree by Hilton Swindon hotel, said: "Supporting charities is vital work and is something local businesses are well-placed to do. Indeed, everyone can do something to help raise funds. A bake sale is perfect as it is both simple and effective. We wish Brighter Futures the very best of luck in reaching their targets. Not long to go now. Keep up the great work, all!"
Chloe Thomas, Community and Event Fundraising Manager of Brighter Futures, said: "We thank the DoubleTree for all their support in regards to our campaign. That extra special level of care at the Great Western Hospitals NHS Foundation Trust will make a huge amount of difference to patients suffering from a tough and life-changing disease, as well as their families and the staff who treat them. While the NHS is a fantastic institution, this extra bit of funding from the charitable work of the private sector and individuals makes a huge amount of difference."