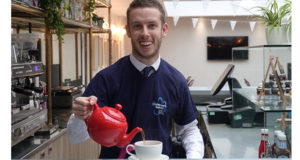 A York city centre hotel is encouraging customers to "grab a sandwich, slice of cake and a hot drink" this month to help support people with dementia.
On Friday, October 26, The Doubletree by Hilton York is hosting its Afternoon Light Bites fundraiser, with proceeds going to The Alzheimer's Society.
Taking place between noon and 3pm in the hotel's Dales Suite, the event has been organised by the hotel's staff-led CARE Committee, which selected the organisation for its work in helping to maintain the provision of vital support in creating a dementia friendly environment for those people either directly, or indirectly, impacted by the disease.
Doubletree by Hilton York Sales Executive Dan Edwards – whose 90-year-old grandmother has dementia – said: "The CARE Committee is here to 'create a rewarding experience' within our local community, hence us holding special events for charities and local organisations.
"From a personal perspective, I am particularly pleased that our CARE Committee has chosen the Alzheimer's Society. My grandmother, Joyce, has lived with dementia for many years and, thanks to charities like the Alzheimer's Society, is living well.
"Our Afternoon Light Bites fundraiser is open to everyone and we hope it will be well supported, not just by staff members and their family and friends, but by the wider community.
"We are delighted to have this opportunity to raise funds for such a fantastic cause – and hope it will be an afternoon tea to remember."
Tickets for the Afternoon Light Bites fundraiser are priced £5 with all proceeds going to the Alzheimer's Society. Those wishing to book a ticket are asked to contact Dan Edwards via email  dan.edwards@dtyork.co.uk or by calling him on 01904 667702.