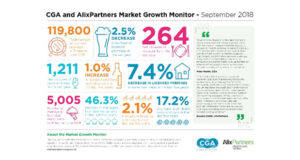 Britain's pubs and bars closed at a rate of more than three a day in the year to June 2018, new research from CGA reveals—but the managed and drink-led sectors are providing signs of optimism for the future.
The September edition of the Market Growth Monitor from CGA and AlixPartners shows that Britain's total number of pubs and bars fell by 2.4% in the 12 months to June. It equates to 1,211 net closures—or an average of 3.3 pubs and bars a day.
Drink-led venues have borne the brunt of the closures over the last five years, declining by 17.2%—but the rate of decline slowed slightly to 2.7% in the 12 months to June. Improving optimism is particularly evident among managed drink-led pubs, which have been outperforming their food-led counterparts in recent months, according to CGA's Coffer Peach Business Tracker, which measures sales from leading managed pub and restaurant groups. The summer heatwave and the football World Cup were among the factors in the boost to pubs.
The Market Growth Monitor also confirms the rise in Britain's branded food pub sector, with numbers up by 18.7% in just five years. But it indicates that food-led venues, in general, have closed at a quicker rate than they opened over the last year, with drink-led outlet change closing the gap. Drink-led premises have also benefitted from a clear trend towards premiumisation that has increased the value of sales in categories like craft beer and artisan spirits—though trading in the leased and tenanted tenures has been more variable than in the managed and free sectors.
The Market Growth Monitor also identifies significant variations in the rate of Britain's pub closures by region. Over the last six months, the pace of closures has been slowest in the Midlands at 0.4%, compared to 1.8% in London and the south-east.
The quarterly Market Growth Monitor from CGA and AlixPartners provides expert in-depth analysis of many more trends in restaurant, pub, and bar openings and closures. Its data is drawn from CGA's Outlet Index, a comprehensive and continually updated database of all licensed premises in Britain.
CGA Chief Executive Phil Tate said: "The popular narrative around Britain's pubs and bars tends to be about decline—but as our new Market Growth Monitor shows, the true story is much more complex. Community pubs and town-centre circuit bars have undoubtedly undergone a clear-out over the last few years, but changes in consumers' tastes and habits are now boosting many drink-led licensed premises—especially in the managed sector.
Tate added: "By contrast, branded and food-led pubs have grown in number this decade, but we see evidence that supply of these venues may be starting to outpace demand in some areas. For all operators, finding the right range of drinks for consumers and striking a good balance between food and drink is crucial—as is staying on top of the subtle trends revealed by our research."
AlixPartners managing director Graeme Smith said: "The data reveals that drink-led pubs and bars have borne the brunt of closures over the last five years to the tune of almost four net closures a day. However, those operators with a well-executed food offer remain attractive – as evidenced by The Restaurant Group's recent acquisition of Food & Fuel. Businesses diversifying through adding guest rooms/accommodation and responding to evolving consumer demands through entertainment continue to grab the interest of investors."