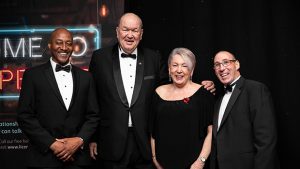 The Licensed Trade Charity hosted a fantastic evening of sporting entertainment on Wednesday 31st October at its annual fundraising boxing event at London's Royal Garden Hotel. Guests including the BII, BBPA, Oakman Inns and the Hogsback Brewery were joined by Sky, who sponsored the event, as they came together to raise money for those in need from pubs, bars and breweries.
The evening raised £4,385 through the boxing and raffle, where generously donated prizes such as a helicopter tour for two, an Apple watch and hampers helped increase the money raised. Seven amateur bouts featured boxers from clubs including Fitzroy Lodge where David Haye first took up boxing, with further sponsorship coming from Hunters Solicitors and Kleinwort Hambros private bank.
Money raised at the event will help the Licensed Trade Charity continue to support current and former pub, bar and brewery employees who have fallen on hard times. Through the charity's website and free 24/7 hotline, they can access financial assistance through grants, advice on housing and relationship issues, health and mental health support and even access six free counselling sessions.
Jim Brewster, Chief Executive of the Licensed Trade Charity, said: "We are delighted that so many people from within the drinks trade have enjoyed such a great evening with us tonight. Their continued support allows us make a real difference to the lives of those who work in pubs, bars and breweries in need of help".