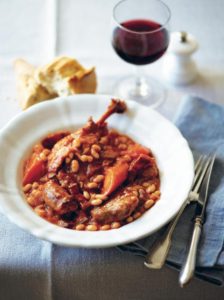 This winter warmer is a favourite at LittlePod, suppliers of real Madagascan vanilla paste and extracts. A hot one-pot meal is a great idea, particularly on those cold days. LittlePod MD Janet made this cassoulet for a live music event held in her village and everyone was talking about the depth of flavour in the stock. By simply rubbing the vanilla paste into the duck breast, searing in the sweetness of the duck, the slow cooking did the rest.
Serves: 8
Preparation time: 1 hour
Cooking time: 1 hour
Per serving:
667 Kcal
44.75g protein
33.6g carbohydrates
35.5g fat
Ingredients:
1 medium potato
3 medium onions plus 1 for the stock
1 celery stick
1 leek
4 garlic cloves, plus 1 for the stock
560 ml chicken stock or water
1 small duck
1 teaspoon LittlePod vanilla paste , or 1 vanilla pod , (seeds only)
500 g neck fillet of lamb
225 g whole garlic sausage, cut into chunks
2 tablespoons plain flour
350 g streaky bacon
4 tablespoons tomato purée
275 ml dry white wine
bouquet garni
225-g can haricot beans
4 carrots, par-boiled
a dash of Worcestershire sauce
salt and freshly ground black pepper
slow cooker (optional)
Method:
1. Switch on the slow cooker or preheat the oven to 180°C (360°F) Gas 4.
2. To make the stock, chop and sauté the potato, 1 onion, the celery stick, leek and garlic. Add the chicken stock or water. When cooked, use a blender to create a base stock (as you would when making a soup). Pop into a slow cooker or earthenware pot.
3. Prepare the meat. Quarter the duck and separate the breasts.
4. Rub the vanilla paste or seeds of the vanilla pod into the duck breasts and leave to marinate. Chop the lamb and spicy sausage into chunky pieces.
5. Toss the duck legs and lamb fillet into the flour, with a little seasoning added in.
6. In a large frying pan, cook the bacon (grill beforehand if you prefer), then gradually add the lamb and duck meat (minus duck breast) to sear and then set aside. Use the same pan to sear the duck breast then set aside as well. Then, cook the remaining onion and garlic and add tomato purée and wine. Add the bouquet garni and reduce until thicker. Add the beans, carrots and the Worcestershire sauce.
7. Combine everything into your slow cooker, or if you're cooking it in the oven, in an earthenware pot, and season to taste. Cook for 1 hour in the preheated oven (or, if using a slow cooker, until the meat is tender).
8. Accompany with your favourite crusty loaf or potato dish.