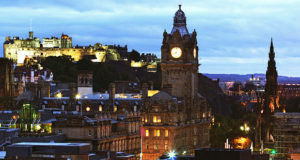 Over two-thirds (69%) of businesses in the Edinburgh Chamber of Commerce would support the introduction of a tourist tax.
The number rises to almost four-fifths (79%) if the funds were ring-fenced for infrastructure investment in the city.
The report also revealed:
Support varied between industries, from 50% in the hospitality sector to 81% of financial services companies and 93% of third sector organisations
The form of levy most favoured was a 'per person, per night' charge – as used in many European countries including Spain, Austria, Croatia, France and Bulgaria
The vast majority of respondents – 87% – would like the option to review the TVL after a set period of time
Edinburgh attracts more than four million visitors a year who contribute substantially to the economy but also put enormous pressures on the city's infrastructure. The Scottish Government announced a national consultation on the matter.
Liz McAreavey, CEO of Edinburgh Chamber of Commerce, said: "The potential introduction of a Transient Visitor Levy in Edinburgh is one of the most significant issues being discussed in our city and it is only right that business has its say.
"After an extensive consultation with our members, we have found broad support for the principle of a levy, which increases further if funds were dedicated to improving the city's infrastructure.
"We look forward to seeing the City of Edinburgh Council's proposals for the use of funds raised by a TVL and we remain committed to improving the environment for the businesses that serve as the backbone of our local economy.
"We will be submitting to the Scottish Government's consultation, articulating our own position and that of Edinburgh's business community, in due course."
Council leader, Adam McVey, said: "It's very welcome to see nearly 70% of Edinburgh businesses backing the introduction of a tourist tax. It's also encouraging to see half of businesses in our hospitality sector recognising the need to create a long-term investment to support the continuing success of the city. These findings give yet more weight to our current plans and consultation, which is giving everyone the chance to have their say.
"With an increasing volume of visitors to the city, which brings substantial benefits not least economic growth, there also comes a greater requirement for the city to invest in managing the impacts of that success for businesses, visitors and residents. We're determined to co-produce a scheme that works best for the whole city, including our local hospitality industry, in order to create a TVL proposal which is fair, simple and workable.