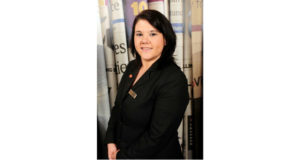 AN EDINBURGH hotel manager has picked up one of the most significant awards in the hospitality industry.
Gillian Duthie, General Manager at Jurys Inn in Edinburgh, has been presented with an Acorn Award for her incredible success in the role which has seen her surpass a host of sales targets.
The Acorn Awards, commonly known as the '30 under 30', recognize the brightest and best prospects in the hospitality industry across the UK.
Gillian, 29, said: "My parents instilled a belief in me that I could do anything I put my mind to and I think it's this mindset that has enabled me to win this award.
"I'm immensely proud to have been included in such a talented group of award winners and its testament to my team's professional and hard working attitude.
"I use a 'can do' attitude with my teams to nurture a strong, results focused environment which is the backbone of the success we've had."
Gillian joined Jurys Inn as a graduate in 2010 and worked across a variety of roles to give her a grounding in all aspects of hotel life.
Jason Carruthers, Managing Director at Jurys Inn, said: "Gillian is the perfect example of the type
of staff we love to have at our hotel and I want to congratulate her on this amazing award success.
"We strive to ensure our guests 'Stay Happy' and Gillian's drive and leadership skills ensure that this ethos is dispersed throughout all members of staff."
Judges remarked that what made Gillian stand out from the crowd was her determination to go the extra mile to help others. She regularly uses her free time to visit schools and colleges to pass on advice to those aspiring to a career in the hospitality industry.