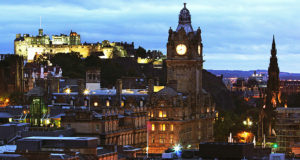 EDINBURGH is to carry out its largest-ever survey of public opinion regarding the implemation of a tourist tax.
EDINBURGH city council's ruling SNP-Labour coalition wants to introduce a "transient visitor levy" of a suggested £1 per bed per night seeking to to raise £11.5 million.
The hotel and leisure industries are opposed to the tax, the kind of which is becoming increasing widespread across the world, in cities including as Berlin, Barcelona, Venice and the Baleric Isle. T
John Donnelly, chief executive of Marketing Edinburgh, said: "The biggest challenge to Edinburgh and its tourism industry right now is global competition, and with a requirement for future investment, in what is currently a challenging financial climate, we need a clear, balanced and thoughtful debate on where that funding comes from.
"Nothing should be off the table at this stage, and we believe a consultation with tourism businesses and organisations, considering the merits and disadvantages of every option, is the next step in determining the best way to move forward.
"Crucial to this conversation are the views of both residents and visitors, which is why we have commissioned an independent and robust research programme to seek their feedback in two waves, in the peak of the visitor season in July and August, then again in October when the city is less busy. We look forward to adding valuable data and insight into the debate."
In a statement from Willie Macleod, Executive Director, UK Hospitality said:
"We are outraged by the sheer lack of meaningful consultation that has taken place to date. Both individual local authorities and COSLA have singularly failed to listen to the informed views of an industry that understands its consumers. They are ignoring the Scottish Government's consistently stated position that it has no plans for a tax on tourists and that the interests of the hospitality and tourism industry must fully be taken into account through consultation.There has been no thorough examination of options or any assessment of the impact on businesses or consumers. Hotels and tourist businesses are already major contributors to public funding and there remains a distinct lack of clarity from all local authorities proposing a tax, as to what the money would be spent on and what actual benefits would be delivered."
"The tax is vehemently opposed by a wide spectrum of tourism businesses, not just within the accommodation sector. Their views and opinions have not been heard."
"Whilst some might argue that other EU countries have successfully introduced a tourist tax, this is not a level playing field – most EU countries which have any form of tourist tax have levels of VAT on hotels and tourism services which are half the level of that applied in the UK. Visitors to Scotland pay one of the highest rates of VAT on tourism services in the EU, the proposed tax is anti-competitive and not in the longer-term interests of businesses and its consumers.
Visitors, especially from overseas, are unlikely to decide against a destination simply because there is a tax on tourists. There is clear evidence that price increases have a negative impact on overall visitor spending. This will affect bars, restaurants and attractions, will result in a decline in visitor demand and will threaten the jobs of some of the 200,000 people working in the industry in Scotland.
"UK Hospitality is therefore calling on the Scottish Government to recognise that a tourist tax is not a viable means of plugging a local government funding gap."