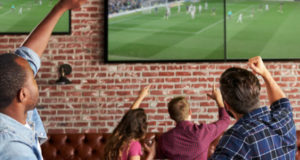 The British Beer and Pub Association (BBPA) is predicting that home fans will buy six million extra pints at the pub during the last 16 World Cup match against Colombia, as they cheer on the England team.
The extra number of pints bought during the knockout stage match could provide a boost to the economy of up to £18 million. The Great British pub will be one of the main benefactors of a surge in demand for beer as fans cheer on the England team against Colombia at their local.
The taxman will be cheering the loudest when England play Colombia. Counting receipts from beer sales, the Chancellor could get an additional windfall as high as £2.7 million from beer drinkers and pub-goers watching the match.
If England beat Colombia and progress to the quarter finals of the World Cup, the BBPA predicts that an extra eight million pints will be bought during the match. The game would take place at 3pm on Saturday 7thJuly, a perfect time for Great British pubs to host the game. This would provide as much as a £24 million boost to the economy and a windfall for the taxman as high as £3.6 million from fans watching the match at their local.
The BBPA had predicted that during the group stages of the World Cup, England fans would purchase up to 16 million extra pints while watching England in their games against Tunisia, Panama and Belgium.
BBPA Chief Executive Brigid Simmonds comments:
"When it comes to watching the World Cup, only being at the game itself can compare with being in the pub. With the England team doing us proud and getting to the knockout stages of the tournament, fans will continue to pack out their local to cheer on the boys. It's fantastic news for the Great British pub!