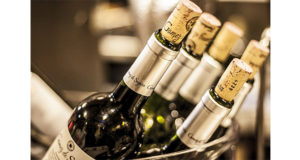 UK Vineyard owners ask 'why tax what we do best most heavily?'
Philip Hammond is being urged to scrap planned tax rises to support the home grown English and Welsh wine industry.
Frustrated English wine producers have put their concerns over Government's lack of support for the industry in a letter to the Chancellor and Environment Secretary Michael Gove calling for a freeze on wine duty.
In the letter signed by 14 of the WSTA English wine members says the significant tax burden is restricting growth and is damaging to rural communities.
The English and Welsh wine industry are currently reaping the benefits of the record heatwave this summer which has provided near perfect grape growing conditions.
In the last ten years the area of planted vines has more than doubled with a record-breaking one million vines planted in each of the last two years and even more due in 2018.
However, the celebrations surrounding a bumper harvest are set to be overshadowed by bad news from the Chancellor next month if he goes ahead with planned 3.4% duty rise in line with inflation.
Thanks to this year's plentiful harvest the Chancellor is set to receive an extra boost in Treasury coffers when the 2018 vintage goes on sale.
Britain's biggest wine producers want to understand why the Government insists on taxing what we do best most heavily.
Miles Beale, Chief Executive of the Wine and Spirit Trade Association said:
"English wine is a great British success story and we are now proudly producing top quality wines which are rivalling the best fizz from around the world.
2018 has so far been a vintage year for English vineyards who are reaping the benefits of the record heatwave. The knock-on effect of near perfect growing conditions in the UK has led to high quality generous grape bunches and many vineyards have experienced their earliest harvests ever. With the good weather continuing into October our English wine makers are reporting a bumper harvest.
But the Chancellor is planning to take the fizz out English wine makers success by adding to its already high tax bill this year, hampering the industry's ability to grow, invest export and create jobs. We therefore urge the Chancellor to support this home-grown industry and freeze duty in the Autumn budget."
Chris White, CEO of Denbies Wine Estate in Surrey, said:
"This action is necessary in order to support the current demand for English wine and the growth of the industry.  A duty freeze would also stimulate further our opportunity for export.  We would like to see the Government adopt a model employed in all other EU countries where the lower duty rate has helped support the growth of their wine industry."
Simon Robinson, Chairman of Hattingley Valley in Hampshire said:
"The English and Welsh wine industry is a bright spot of the UK economy which is set to flourish so long as the Government provides a stable and supportive environment. Growth in the industry will provide significant rural employment and development as well as significantly underpinning developments in tourism. Increasing duty on our products is not helpful, especially when one considers the considerable additional revenue which will accrue to Government from increased employment in the industry."
In November last year the Chancellor delivered a welcome freeze to alcohol duty leading to an extra £380 million windfall from alcohol duty, between February and July, an increase of 6% on the same period last year.
Duty is currently so high that 55% of an average priced bottle of wine sold in our shops and supermarkets is now taken by the Treasury in tax and VAT.
A further 3.4% duty rise would add another 7p on a bottle of still wine, 9p on a bottle of sparkling.
The UK alcohol industry is one of the most heavily taxed in Europe. The current Chancellor's harsh duty policy is a stark contrast to how other countries treat their vineyards and wine makers.
Around two thirds of the wine made in England and Wales is sparkling wine which attracts the most duty, at £2.77 on a bottle of fizz. UK consumers pay £2.16 for a bottle of still wine.
In France, where the wine industry is heavily supported, consumers pay the equivalent of just 7p a bottle on duty for sparkling and 3p for still.
In the EU only Ireland, with no domestic wine industry, has a higher rate of excise duty on sparkling wine.
Outside the EU in New Zealand they pay less than half the duty at £1.10per bottle of still or sparkling wine.
English sparkling wine has been gaining international recognition over the past few years, leading to a trophy cabinet bursting with awards and attracting Champagne houses, such as Taittinger and Pommery, to invest in English vineyards.
The latest data shows last year consumers drank 35% more English sparkling wine than they did in 2013.