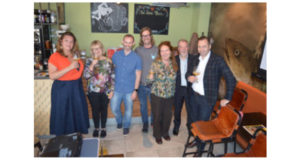 'Exciting Opportunity' For Beer And Food Matching-But More Must Be DoneBeer and food matching offers pubs, bars and restaurants an exciting opportunity to engage more customers and upsell them more premium beers, according to speakers at a recent Beer & Food seminar hosted by the Guild of Beer Writers in Bristol.
The event, created and chaired by Susanna Forbes, drinks writer and Guild director, was staged at the award-winning Wild Beer Co's bar in the city. Around 40 guests attended to learn more about beer and food from the speakers, and to experience it in practice through the stunning five-course beer matching lunch created by Wild Beer.
Starting the day, author Melissa Cole highlighted the need for credibility. 'Shoehorning' beer and food pairings doesn't work and in the long term can alienate consumers, she warned. And, she continued, "if you don't understand how a dish is created, you are unlikely to be able to match a beer to it" – so spending time in the kitchen is vital.
Food and drink writer Fiona Beckett observed that the majority of people who enjoy drinking beer in the pub just don't think of ordering it with  a meal – there's a disconnect. Yet, beer's widespread availability, and affordability, are its strength, allowing diners to experiment more freely than they could with wine, she noted, adding, "Introduce people to beer and food matching with one great match – something they can 'own' and pass onto their friends."
Beer historian and writer Martyn Cornell gave a historical perspective on beer and food. "We always did have beer and food together on the table in Britain," he said. "Then, sometime in the late 19th century we lost it, and we've never really recovered it." Dinner ales and luncheon stouts were widely brewed, beer was part of the meal at many eateries – and even Christmas dinner in the workhouse included a firkin of double stout.
In his 'Beer + Food: What it's Worth' presentation, Justin Wylde, category development manager at Matthew Clark, stressed the importance of creating 'grammable' experiences for the new centennial consumers. Guest chefs, themed beer and food pairings and similar will entice customers – and they will pay a privilege for the experience. Justin also shared research showing that customers choose based on beer style as well as brand name, and that good beer tasting notes can generate a huge boost to beer sales.
After the theory, beer and food matching in practice was enjoyed over a five-course lunch, created by chef Sam Sohn-Rethel, with explanation from Wild Beer co-founders Andrew Cooper and Brett Ellis. Fiona Beckett was among those complimenting the "really stunning beer and food pairings"
Closing the day, a panel debate on 'Are Pubs Doing Enough with Beer & Food Matching?' concluded that much more could be done.  Beer sommelier Jane Peyton shared her frustrations at the missed opportunity and asked, "How many pubs can you think of that do really good beer and food matching?" Simon Bunn, MD of Brewhouse & Kitchen, detailed some of the initiatives in place across his 20-strong group. Every dish has a recommended beer match, and every table has a Beer Bible. Beer style rather than brand suggestions give more flexibility, as their beer list changes more frequently than the food menu.