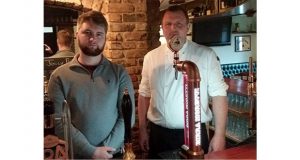 Adam Noble and Aaron Dobson are respected veterans in the hospitality and leisure industry and are ecstatic to begin their new venture in the pub industry as they join the Jolly Brewers in Shouldham Thorpe, with plans to launch 10 more sites over the next three years. The new licensees are focusing on building a high-quality food offering at this popular local and cementing the pub as a traditional community hub.
The Jolly Brewers, a popular food destination pub in Shouldham Thorpe, a picturesque village in Norfolk is celebrating the arrival of the two highly-experienced licensees.
Adam has worked in the pub and restaurant trade since he began his career, having previously worked as an Operations Director for Greene King before meeting Aaron, who was an Operations Manager for a large leisure attractions company. Adam and his family are local to the Norfolk area, making this a natural choice as their first tenanted pub business.
Commenting on the new tenancy, licensee Adam Noble said: "From the minute we walked into the Jolly Brewers, we knew this was the right pub for the next step in our career. We're excited to get started and begin building relationships with the locals and developing our food offering. For us, classic and beautifully-cooked dishes will be the key to our success. Bring on a jolly future at the brewers!"
Commenting on the Jolly Brewers, Business Development Manager Jean-Paul Russek said: "I'm thrilled to have two fantastic licensees on board, both of whom have an incredible wealth of experience behind them. Adam and Aaron are passionate about good-quality food and exciting dishes that will be undoubtedly bring in customers old and new into the pub. I'm looking forward to see how they grow the business in the future."