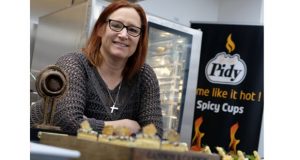 Pidy has revealed the eight finalists for the Pidy 'Revamp the Vol-au-vent' Student Challenge which has returned for a second year. who have been chosen amongst students from across the country to attend the live cook-off final on Friday 7th December at the Claire Clark Academy at Milton Keynes College.
The eight finalists will compete against one another for the winning title and have their dishes judged by an expert panel, including Claire Clark herself and last year's winner, Marian Tandy from the University of West London.
The list of finalists for 2018 includes:
Catherine Worley, North Hertfordshire College
Nicole Watt, North Hertfordshire College
William Sowden, Selby College
Kieran Rudolph, Loughborough College
Rachel Able, London Geller College of Hospitality & Tourism, University of West London
Jihyeon Noh, London Geller College of Hospitality & Tourism, University of West London
Jaymie Phow, London Geller College of Hospitality & Tourism, University of West London
Chloe Hammond, Milton Keynes College
Milton Keynes College partnered with Claire Clark MBE to create the academy which offers a range of unique patisserie courses where the students can learn specialist techniques and methods. Earlier this year, Pidy become an official sponsor of the Claire Clark Academy and is delighted to support an initiative that inspires the next generation of great British pastry chefs.
Competing in the state of the art pastry kitchen, the eight finalists will have just one hour to demonstrate their culinary skills and present their dish to a panel of judges. The students were challenged to 'revamp' the traditional vol-au-vent, using one of the three best-selling Pidy vol-au-vents. The dish has to be a canape, a starter, a main course or a dessert with a street food theme.
Robert Whittle, General Manager at Pidy UK is impressed with the standard of entries this year and is looking forward to the live Cook-Off Final:
"It's great to see the momentum continue to grow this year and we were really impressed by every entry received, which made narrowing down eight finalists extremely challenging. It's great to see the students have really took the brief on board and pushed their creative and culinary abilities to the max. I'm looking forward to the final and seeing first-hand how the students create their innovative street food inspired vol-au-vents!
The Pidy 'Revamp the Vol-au-vent' Student Challenge is all part of our vision for inspiring young chefs and encouraging them to succeed within the industry. We want the students to showcase their talent and see the fresh, innovative ideas they can bring to the table."