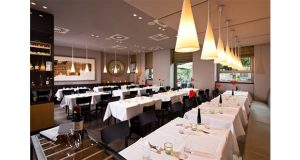 On International Day of Persons with Disabilities the Government has announced that it will be recruiting a new food and drink disability champion to help tackle the issues disabled people face as consumers. The government is to recruit a food and drink disability champion to raise awareness of accessibility issues in restaurants and pubs.
The champion will use their influential status as a leader in the food and drink industry to raise awareness of the need to improve access, customer service and staff training to ensure that venues understand the needs of disabled consumers.
The charity Guide Dogs has found that almost half of guide dog owners report being refused access each year, often to restaurants and pubs.
The new champion will join the existing 14 champions who are already driving improvements to the accessibility of services and facilities in a range of sectors, including banking, music and tourism.
Minister for Disabled People Health and Work Sarah Newton said: 
"There are nearly 14 million disabled people living in the UK, and just like everyone else they enjoy going out to eat and drink as a way of socialising with friends. But poor access and customer service often mean disabled people might just choose to stay at home instead.
"The food and drink industry must ensure it is capitalising on the spending power of disabled people and their households – the Purple Pound – worth £249 billion every year."
The existing champions have already made significant progress in breaking down the barriers faced by disabled consumers.
For example, the music champion Suzanne Bull has launched a new industry taskforce aimed at improving the experience for deaf and disabled customers when booking tickets for live music events.
Johnny Timpson is the disability champion for the insurance industry and Industry Affairs Manager at Scottish Widows. Johnny Timpson is bringing together representatives from the insurance industry, regulatory bodies and charities for the first time to look at how to make the industry more transparent and inclusive.
Insurance Champion Johnny Timpson said:
"Walking the talk on diversity is essential for the insurance sector, and my champion role enables me to work with the industry to improve access to affordable insurance for disabled consumers.
"Becoming a champion has allowed me to bring key players to the table to agree on a clear set of actions for making the insurance industry more inclusive."
The disability champions are just one of the ways the Government is ensuring that disabled people can participate fully in society. A whole range of support is on offer to support those disabled people who want to work to find a job that is right for them.