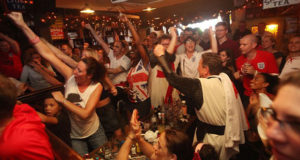 Football Fans Charged More For Pints During GameAn investigation by The Sun newspaper has revealed that some pubs are charging fans more for their beer during World Cup games. The practice known as "event pricing" is sometimes implemented to help offset increased costs during large events.
The Sun revealed that Pub chain Stonegate Pubs is charging up to 50p more for a pint during England's matches in some of its 690 pubs, stating that a Yates in Manchester was charging an extra 20p on drinks, while a Walkabout in Colchester added 25p and the Clock House in Harlow 50p.
Stonegate said the price increase paid for door staff, plastic cups and cleaning so venues could meet a number of licensing requirements. A spokeswoman for Stonegate said price increases of between 10p and 50p would be applied on certain drinks in certain venues for the duration of the match.
Customers would be made aware of the price changes on notices displayed in the pub, she said.
Wetherspoons said it would not be following suit, spokesman Eddie Gershon said: "We wouldn't put prices up.
"I don't think customers would be very impressed.
"You have to show loyalty to customers who have shown loyalty to you."