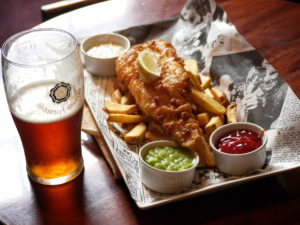 Ideal for your Fish Fridays, this recipe is for perfect traditional Beer Battered Cod.
Ingredients:
8 (120g) fillets cod

2 litres vegetable oil for frying

125g plain flour

2 tablespoons garlic granules

2 tablespoons paprika
2 teaspoons salt
2 teaspoons ground black pepper
1 egg, separated
330ml beer
Directions:
In a mixing bowl, place the flour, making a well in the center.

Add the egg yolk, oil, garlic, paprika salt, pepper. Add the beer slowly, and mix from the center to sides until well-blended and smooth.

In a separate bowl, whip the egg white to a stiff peak. Gently fold into the batter just prior frying the fish.

Preheat deep-fat fryer to 185°C.

Dip the cod in the batter, and drop into the deep-fat fryer, frying until golden brown and throughly cooked.

Remove and drain. Serve, garnishing with lemon wedges, and parsley stems.