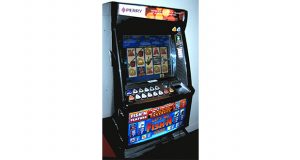 Tests on a sample of pubs in England indicate that almost 90% failed to prevent children accessing 18+ gaming machines.
The Gambling Commission has worked with licensing authorities and local police to test compliance with laws in place to protect children from the risks gambling can pose.
Children are not permitted to play Category C gaming machines in pubs, and staff are expected to stop children playing on the machines and there should be clear signage indicating the age restriction says the commission.
Announcing the results at the Institute of Licensing National Conference, Helen Rhodes, Programme Director at the Gambling Commission, said: "We are extremely concerned that pubs across England are failing to stop children playing gaming machines designed for adults. We urgently call on the pub sector to take action immediately to enforce the laws in place to protect children and young people."
"We expect to see significant improvement in further tests and will continue to work with licensing authorities to support any action required against those failing to adhere to the requirements."
The current failure rate (89%) compares to an average failure rate of 15% to 30% for other age restricted products such as alcohol or tobacco2.
The Commission has written to the pub industry today outlining the findings of our work and calling for urgent improvements.