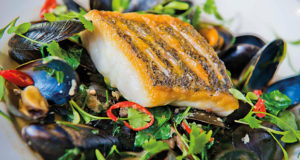 Businesses across the UK are being urged to get behind Seafood Week by taking part in the eight-day celebration of seafood.
Organisers Seafish are calling on the UK foodservices industry to get behind Seafood Week, taking place from Friday 5-12 October, and help the nation celebrate the incredible variety and quality of fish and shellfish available to buy and eat.
Seafood sales have increased during Seafood Week in each of the three years that the campaign has run, with businesses who take part often enjoying increased trading and customer engagement.
A jam-packed week of festivities is planned to encourage consumers up and down the country to eat seafood on offer at local restaurants, takeaways, hotels, public houses and retailers.
Starting on Friday October 5, each day of the campaign will focus on a different species of seafood demonstrating that the perfect fish dish is out there for everyone, with a range of tastes and textures to suit all lifestyles and budgets. This provides the foodservice sector with the opportunity to showcase a product or dish containing the key ingredient of the day.
For further information on Seafood Week visit www.seafoodweek.co.uk