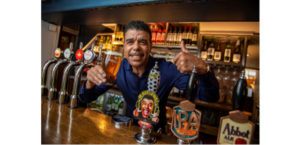 Greene King is partnering with footballing legend Chris Kamara as part of their Summer of sport campaign.
To prepare for the campaign, Chris Kamara spent time at the Greene King brewery to help brew a commemorative ale – Un-BEER-lievable – which will be available from 14 June.
Un-BEER-lievable, which is a 4.1% pale ale with citrus fruit notes and a crisp bitter finish, will be available in more than 1,300 Greene King pubs across the summer.
Alongside the release of this limited edition ale, Chris Kamara also hosted a national Greene King sport pub quiz. Teams from around the UK took part in a series of quiz heats throughout April, the winning teams went forward to the regional heats, which were held in May.
The winners of the regional heats went forward to the grand final on Saturday 2 June in Nuneaton, which was hosted by Chris Kamara – and one team walked away with a £5,000 cash prize.
Sue Thomas-Taylor, marketing director for Greene King Locals said: "We are really enjoying working with Kammy for our Summer of sport campaign.
"Our pub quizzes are a staple of week night entertainment across our pubs, but this is extra special ahead of this summer of sport, and we're excited that Chris helped us find the UK's biggest football fanatics.
"We had a great time brewing the ale with Chris in Bury St Edmunds, it's truly 'Un-BEER-lievable' and it's sure to be popular with our guests this summer."
Chris Kamara commented: "I'm really excited to be working with Greene King, together we want to encourage groups of friends across the country to come together for some footy fun and sporting banter – it's going to be unbelievable!"