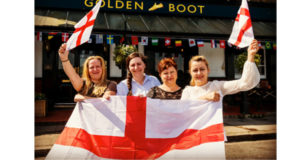 Greene King, the UK's leading pub retailer and brewer, has rebranded a London pub to back England striker Harry Kane, by changing its name to The Golden Boot.
Normally known as The Golden Fleece, the Greene King pub in Manor Park is showing its support for Harry Kane, who is in the running to receive the highly coveted Golden Boot at this year's summer tournament.
The pub will also be giving away free beer every time Harry Kane scores to guests who say the key word, "football's coming home" when Harry Kane scores a goal.
The complimentary ale on offer during the game was brewed by sporting legend and TV personality, Chris Kamara, as part of Greene King's summer of sport campaign. Aptly named, 'Un-BEER-lievable' the limited edition ale is available at 800 pubs nationwide throughout the summer.
Sue Thomas-Taylor, marketing director for Greene King Locals said: "The summer of sport is already off to a fantastic start, and it's great to see the nation coming together, we can really feel it in our pubs at the moment the atmosphere is electric!
"We really wanted to show our support to the team and to Harry by re-naming the pub and giving fans an extra reason to get off the sofa and soak up the atmosphere in the pub! It's going to be an Un-BEER-lievable evening – come on England!"