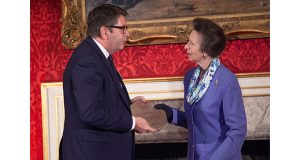 Greene King, the pub retailer and brewer, has been commended for its commitment to upskilling its workforce at the 2018 Princess Royal Training Awards.
The prestigious awards honour UK employers for their outstanding training and development programmes, which have directly resulted in measurable success. HRH Princess Anne personally presented the award to Greene King at an awards ceremony in St James' Palace on 31 October.
Greene King, the only pub company to achieve a 2018 Princess Royal Training Award, was recognised for the development of its apprenticeship programme, investment in its training support, retaining and developing its people and the introduction of its e-learning platforms.
Rooney Anand, chief executive of Greene King, said: "It is a tremendous honour to receive Royal recognition for our investment in our people's learning and development. We are really proud of the learning opportunities we are able to give our people, from our apprenticeship scheme to our Get into Hospitality programme with The Prince's Trust and the new e-learning platform which is available to all of our 39,000 employees.
"Our team members are at the heart of Greene King so naturally their learning is integral to our business and we have seen great results in retention through our investment in their training. We are continuously looking at ways we can improve the learning offer for our people and will strive to build on our successful apprenticeship programme which has now seen 11,000 people take part."
Chris Jones, chief executive of the City & Guilds Group, added: "In an ever changing world, it continues to be critical for Britain's businesses to invest in training to boost their productivity, address skills gaps and further develop their teams. We are delighted that Greene King is among a diverse group of organisations achieving the Princess Royal Training Award standard in 2018. I congratulate them, and all of the organisations who presented examples of the innovative, inspiring and impactful training. They are truly worthy recipients of this rigorously assessed royal award and it is fitting that their achievements have been rewarded."
The Princess Royal Training Awards, delivered by the City & Guilds Group, are now in their third year. Each of the applications was assessed against three Hallmarks of Excellence by the Princess Royal Training Commission, which comprised of HRH The Princess Royal and seven leading figures in the business and training community. Forty eight UK businesses, from a wide range of sectors, have achieved the Princess Royal Training Awards standard of excellence in training.