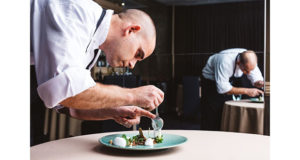 Independent country house hotel group, Hand Picked Hotels, has launched a four-day working week for chefs, designed to support a greater work-life balance for kitchen teams and attract more skilled professionals to the industry.
The new four days on / three days off initiative is being trialled at the group's Ettington Park Hotel in Stratford-Upon-Avon as part of a wider series of recruitment and retention programmes driven by new Director of Food & Beverage, Graeme Nesbitt.
Graeme comments, "The hotel and hospitality industry has long been vocal about the growing shortage of skilled, trained chefs and the gap is widening – it is still very much a case of supply outstripping demand and as an industry we have to work harder to turn heads.   At Hand Picked Hotels, we are committed to exploring ways to challenge the perception that a healthier attitude to balancing commitments at work and at home can't be achieved for chefs, and our new four-day working week underlines that.
"With a portfolio of award-winning restaurants where quality and consistency is paramount, chef and kitchen team retention is just as critical as attracting talent in the first place – it must go hand in hand.  Having been a chef for many years, I know that the kitchen is one of the most rewarding areas of the business to develop skills and knowledge and we have a number of training programmes in place to nurture and home-grow talent within Hand Picked which is a key part of our people development strategy."
New training and development programmes recently launched at Hand Picked Hotels include an all-new digital training platform designed to offer choice and flexibility to a wider demographic.  Their bespoke O.W.L (Online Work Learning) portal allows the team to undertake virtual training supported by videos and webinars with a calendar of online courses relevant to their role.
"In this digitally-savvy age, it's important we tailor training opportunities to reach everyone in the way that works best for them" continues Graeme, "as it's not always a one-size-fits-all approach with a SOP manual.  But, as well as online learning, at the other end of the spectrum we've also gone back to basics and introduced a Restaurant School for our front of house teams after identifying some essential skills gaps in formal table set up and service etiquette.  It's what I'd describe as good, honest and traditional hotel keeping but with a modern approach!"