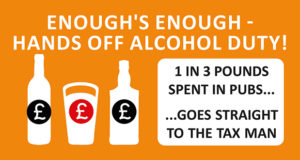 Did you know the UK pays more in alcohol duty in France, Germany, Poland and Spain combined!!
Hard to believe isn't it? The 5.5 million people living in Essex pay more in alcohol duty the 82 million people living in Germany, and the Chancellor wants to tax the industry more.
Time to make our voices heard, we have produced a poster for pubs, bars, hotels and restaurants to display urging people to lobby the Chancellor to leave alcohol taxes for the on trade alone.
We were thinking of adding "lobbying for a tax cut" but the chances of alcohol taxes being cut are pretty slim so a freeze is the next best thing.
It worked last year and gave the industry a massive boost and also raised more money for the Treasury in November last year, UK chancellor Philip Hammond announced a duty freeze on wine, spirits and beer duty in the autumn Budget.
The statistics show that from December 2017 to April 2018, wine and spirits duties rose to £3.291 billion – a 2% increase from £3.224 billion during the same period the previous year.
When beer and cider are factored into the equation, the total increase in alcohol duties paid to the Treasury was £86m. So let common sense prevail and do the same for this budget!
Download a poster and let your customers know just how much the industry is taxed!