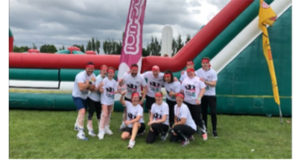 Pub company Hawthorn Leisure has continued to showcase its charitable commitment, raising £17,843.14 for The Willow Foundation through a summer of sporting activity.
Taking part in the Operator Managed pubs bike ride in July, team members rode from Gorton, Manchester, to Rhyl, North Wales in a cross-border challenge of 73 miles, 30 degrees heat and three punctures. And if that wasn't enough cycling, just a week later, the Hawthorn Leisure team were back on their bikes, partnering with NewRiver for their Way of the Roses challenge, a gruelling 170-mile bike ride from Morecombe to Bridlington over three days.
In addition to the two bike rides, Hawthorn Leisure kept sporting momentum high with the team also completing the Gung Ho obstacle course, the biggest 5k inflatable obstacle course in the world.
The Willow Foundation is the only national charity working with seriously ill young adults, aged 16 to 40, to fulfil uplifting and unforgettable special days. Since 1999, it has fulfilled more than 15,000 special days for young adults living with life-threatening conditions such as cancer, motor neurone disease, cystic fibrosis, muscular dystrophy and Huntington's disease.
Gerry Carroll, CEO at Hawthorn Leisure comments "One of the values we live by at Hawthorn Leisure is being 'the crazy ones' and this summer has definitely seen some crazy activities taking place, all for a great cause.
"We have supported The Willow Foundation for a number of years and it is a charity very close to our hearts. I am so proud of everyone from Hawthorn Leisure and NewRiver who took part in the challenges and want to thank everyone who has helped us raise such a great amount of funds for this fantastic charity."
Throughout the summer, Hawthorn Leisure has also participated in the Full Moon Marathon in London in support of Breast Cancer walking 26.2 miles during the night and raising an additional £1,012.70.
To donate, please visit: https://www.justgiving.com/fundraising/hawthornleisure