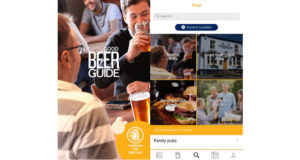 The World Cup may be over, but Britain's beer gardens and pub patios are still booming with over 400 located in Buckinghamshire alone, according to CAMRA's Good Beer Guide app.
The app, which puts good pubs and pints at people's fingertips, has found a whopping 87% of the pubs listed in Buckinghamshire boast a beer garden or other outside drinking area, with Herefordshire following slightly behind at 85%.
CAMRA is encouraging beer-lovers to continue supporting Britain's pubs, which have seen a huge boost in popularity thanks to a summer of sport and plenty of sunshine. Some recommended pub gardens to visit from the forthcoming 2019 Good Beer Guide include:
Chequers in Fenny Stratford was named the local CAMRA branch Pub of the Year in 2018 and boasts a small courtyard garden at the rear.
Rising Sun in Haddenham has a newly landscaped garden and treats on tap for canine companions.
Whip Inn in Lacey Green has an attractive, enclosed garden overlooking the Lacey Green Windmill.
Eight Bells in Long Crendon is a charming and characterful village pub with a glorious beer garden.
Black Cat in Lye Green is dog-friendly, with an attractive fenced garden with children's games outside.
Squirrel in Penn Street is a delightful pub located by the village green where the local cricket team plays, boasting a fenced garden and play equipment outside.
Three Locks in Stoke Hammond is a popular canalside hostelry that supports breweries in the area with plenty of outdoor seating along the locks.
Cross Keys in Woolstone is very welcoming to walkers, situated close to the Grand Union canal and local parkland with a rear patio and garden.
More pub garden recommendations can be found by using the Good Beer Guide app, alongside other filters ranging from free wifi to real ciders on tap.
App users can also connect with friends using a social feed which lets them share pictures and comments on the pubs they visit and the beers they try, highlighting their friends' activities and keeping them up-to-date with the latest beer and pub news from CAMRA.
CAMRA's Head of Publishing Simon Hall says: "The Good Beer Guide is already a highly respected source of beer and pub information. The app is an extension of our hugely popular title, opening up the world of great beer and pubs to even more people and providing a new way for them to share their passion with others through pictures, tasting notes and reviews. It allows people to take the pub with them wherever they go."
The app is optimised for smartphones and available on the App Store and Google Play. Users can subscribe for as little as £4.99/year* to access even more features and enhanced search tools, including the ability to search among the premium listing of 4,500 CAMRA-recommended pub listings from the Good Beer Guide, the UK's best-selling beer and pub guide.
The app will be fully updated in September to reflect the updated 2019 Good Beer Guide, which hits shelves on 13 September 2018.