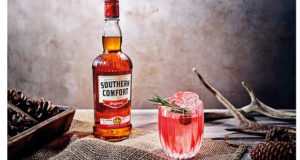 Pubs and bars can get into the seasonal spirit with a new range of simple-to-make Christmas cocktail serves from Hi-Spirits, featuring leading brands from across its portfolio.
With cocktail sales booming right across the on-trade, Hi-Spirits' expert mixology team has created new seasonal serves using brands including Southern Comfort, Buffalo Trace, Antica Formula, Fireball and King of Soho gin.
As well as new twists on classic cocktails, there are recipes for warm-served drinks to keep out the winter chill:

Southern Comfort Southern Berry Sour:
Pour 50ml Southern Comfort, 100ml Cranberry Juice and 50ml Fever-Tree Sicilian Lemonade into a glass over ice. Add 6-7 cranberries and garnish with a rosemary sprig. Stir gently and serve.

Sweet Manhattan:
Pour 50ml Buffalo Trace Bourbon, 25ml Antica Formula and two dashes of Peychaud's Bitters into a glass filled with cubed ice. Stir for around 10 seconds then strain into a coupe glass and garnish with cherries.

Soho Sling:
Add 50ml King of Soho gin, 15ml lime juice and 35ml pressed apple juice to a tall glass filled with cubed ice. Stir and garnish with a slice of apple.

Mississippi Mulled Wine:
Add 50ml Southern Comfort, 75ml red wine and 75ml pineapple juice to a pan, stir and gently heat to 75°C. Pour into a mug or toddy cup and garnish with a pineapple wedge and a slice of lemon.
Spiced Apple Pie:
Stir 25ml Southern Comfort, 25ml Fireball and 100ml apple juice into a pan; heat serve to 75°C, pour into a toddy glass and garnish with cinnamon and a slice of apple.
Dan Bolton, managing director of Hi-Spirits, says: "Customers catching up with friends or enjoying a night out in the run-up to Christmas are ready to treat themselves, and a seasonal cocktail menu, including warm serves, is a great way to drive sales.
"These drinks have been developed with mainstream pubs and bars in mind. We also work closely with operators to create bespoke cocktails at this time of year, and many bartenders enjoy creating seasonal serves with our brands."
For more information, please contact Hi-Spirits on 01932 252 100, email info@hi-spirits.com or visit www.hi-spirits.com.