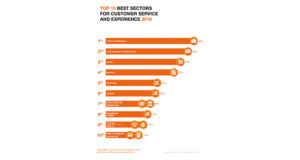 Hotels and hospitality industry has overtaken the food service sector – reclaiming its spot at the top – to be named as the best sector for customer service in the latest customer experience report from service design consultancy, Engine.
The report also named hotel chain Premier Inn joint eighth, with Apple, in the top 10 best brands for customer service and experience.
When it comes to what customers want from service, the latest findings from Engine's Customer Experience Report 2018 found that consumers are more likely to recommend a service to a friend based on the 'quality of service' (68%) over 'price' (28%) or 'convenience' (3%).
Joe Heapy, co-founder of Engine, commented:
"With short-term letting brands like Airbnb, OneFineStay and lovehomeswap challenging traditional hotels, the results of our annual Customer Experience Report should be welcome news to the hotel and hospitality world responding by introducing new add-ons for travellers. Hotel chains are regularly introducing new services to help them to appeal to guest's niche requirements. You can now book an appointment with an energy healer, have gym equipment set up in your suite or ask Alexa to be your butler. Our report shows that service outranks price and convenience when it comes to recommendations. So it's clear that businesses need to invest in creating novel services or home-away-from-home twists for visitors that disrupt the cookie-cutter guest experience."
In the Customer Experience Report 2016, hotels and hospitality ranked as the top sector for customer service but lost its position to food services and restaurants last year. Overall, traditional service-based industries such as hotels, retail and restaurants have retained a steady top 3 ranking throughout the five years of the survey.
Engine's annual Customer Experience Report questions respondents on which sectors, as well as companies, are providing good and bad customer service, in addition to what constitutes good service.