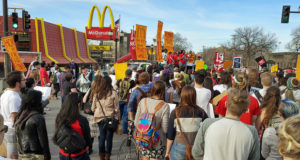 Unite members from TGI Fridays in Milton Keynes, Covent Garden and Stratford City marked their eighth 24 hour walkout last Thursday (4th) by joining with striking workers from McDonald's and Wetherspoons for a historic rally in London.
The strikers, who have come together to call for £10 an hour and union rights, will be joined by fast food and gig economy workers from across the UK and abroad in taking action tomorrow in a mass show of solidarity.
The TGI Fridays strike is over a change in tip's policy which has left waiting staff £250 a month worse off and the company's continued refusal to hear their grievances.
Unite national officer Rhys McCarthy said: "This is an incredibly exciting time to be part of the trade union movement. Hospitality workers are finding their voice and their power in the union.
"These workers have had enough of low pay and insecure work. They will not stand by and let their bosses pocket their tips nor cheat them out of money they're rightfully owed.
"They are demanding not only respect but better pay and union rights, because they know that by standing together they can win.
"These young workers are leading a growing movement against low pay and insecure work in the hospitality sector and across the gig economy. Unite stands right by their side.
"Only this week, Unite's 'fair tips' campaign won an important promise from this government to stop employers taking a cut of workers' tips. We will hold the government to that pledge.
"We are calling on TGI Fridays to get around the table to find a sensible solution to this dispute. These workers deserve so much better from TGI Fridays' bosses."
A spokesman for the Bakers, Food and Allied Workers Union (BFAWU), which represented striking workers from McDonald's and JD Wetherspoon, claimed more than 500 people attended a rally in London's Leicester Square last week at which Labour shadow chancellor John McDonnell and general secretary of the Trades Union Congress, Frances O'Grady, spoke.
Workers from the two companies are demanding wage increases to £10-an-hour and union recognition. A BFAWU spokesperson said: "The evidence shows hospitality is a low paid industry where precarious contracts are rife, and the workers are coming together to say they have had enough and to stand up and demand change.
"Clever employers will realise it's not a question of if £10-an-hour will become the minimum norm it's when and so clever employees will move with the time and start paying that and clever employers will start engaging with their staff through trade unions."