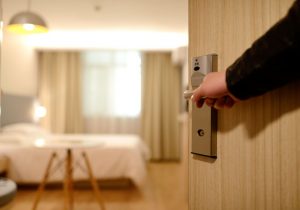 Changing the stereotypes associated with the hospitality industry is vital to securing its workforce as Brexit looms, according to Midlands based hotel director, Andrew Sanders.
As Brexit approaches, the hospitality sector is already feeling the effects where its workforce is concerned.  The number of people from overseas applying for new jobs within the industry is falling. Data from the Office of National Statistics estimated that 130,000 EU nationals emigrated in the year to September—the highest level in a decade. According to statistics from UKHospitality, an estimated 700,000 (15 percent) of the 4.5 million people that currently work in the hospitality sector were from the European Union.
"On average, a quarter of most hotels' workforce are from the EU.  In the case of one of our hotels (Best Western Tillington Hall) 100% of the housekeeping team are EU nationals," Andrew Sanders, Director at SMB management, part of Hospitality First Ltd, said. "Brexit is almost certainly discouraging EU workers to gain employment in the UK and its becoming a very a serious problem for our industry.  Solutions are needed and fast.  It's crucial that both the government and hospitality sector work together to attract more people into the industry.  I am on a mission to educate people that a career in the hospitality sector is just that – it's a career choice for professionals, it's not just a holiday job for students."
Sanders continued, "The hospitality industry is the fourth-largest employer in the UK and we pour in billions of pounds to the UK economy each year.  The clock is ticking and it is time to stop talking about change, we need to put our words into action, and the UK government needs to listen."
Sanders is amongst a growing number of industry leaders who are also frustrated that the catering and hospitality T-level is not scheduled to be rolled out until 2022 and calls on the government to bring it forward.  As well as recruiting and retaining home grown talent, the sector has also put its case forward for the need for a balanced evidence-based immigration system and more education around apprenticeships.
To boost recruitment locally and educate school leavers about the possibilities of a career in hospitality, Sanders will be visiting schools and colleges throughout the Midlands to talk about what the sector has to offer.
Sanders concluded, "I started working as a conference porter in the industry some 20 years ago, and I have worked my way up to become a director. Don't get me wrong, it's been hard work, but I have loved every minute of my career so far. Hospitality is a dynamic and fun profession, where no two days are the same and anything is possible. I am really excited to talk about my experiences, as well as the practicalities of venturing into a career in hospitality, with local schools and colleges. And I hope that my efforts will encourage a new generation of employees into the industry and go some way to tackle the unwarranted stigma that working in the industry has gained."