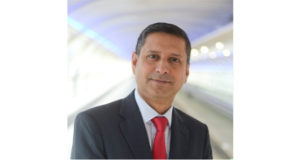 Bristol Hoteliers Association chief, Imran Ali visited City Hall this week to present a four-point plan aimed at bringing the city's burgeoning AirBnB and short-term let operations closer in line with the stringently regulated hospitality sector.
The Bristol Hoteliers Association – which represents 34 hotels in the city – has lobbied for action against short-term letting sites such as AirBnB – which confirmed 144,000 guest arrivals in Bristol last year alone.
BHA Chairman Imran Ali, told the Head of the Mayor's office that the short-term letting trend was having a significant impact on Bristol's smaller hotels and B&Bs and that some smaller independent operators had been forced to sell-up because of loss of trade.
"Legitimate businesses pay business rates and VAT – short-term letting hosts do not. Listing hosts are not regulated and do not have to undergo the rigorous safety checks Bristol's hoteliers are required to do."
Imran Ali presented and discussed a four-point plan with Mayor Marvin Rees's team including:
An optional, ward-based exclusion zone in which short-term letting operators are required to hold a licence granted by the city council and are restricted to 170 days per year;
Introduction of a Host's City Levy for all registered hosts based on the model drawn up in Bristol's twin city of Porto and also in Lisbon;
Ensure all AirBnB and short-term letting operators are Health and Safety compliant; and
Mandatory listing of all short-term letting sites such as AirBnB.
Imran Ali went on: "More than 2,000 properties are now registered on the short-term lettings platforms like AirBnB in Bristol.
"We're happy for competition – but it has to be on a level playing field. If nothing is done, hotels and B&Bs will start a long journey towards diminished trading and eventually, closing down."