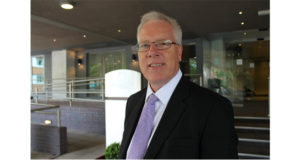 Hospitality businesses should be given the same breaks as farmers when recruiting personnel from around the world once the UK has left the EU.
That's the view of DoubleTree by Hilton Bristol City Centre General Manager John Dowling, who said the hotel industry in particular was highly reliant on overseas staff and would struggle to attract foreign workers following Brexit.
He said: "We know from our own staff feedback we are a great place to work. In the last few months we have promoted six of our team to more senior roles within the hotel.
"Georgia Talbot, one of last year's apprentices, has just been offered a full-time job in our accounts team and another former employee, Chris Williams has just returned as Manager on the Front Desk."
John Dowling added: "While we are determined to expand our apprentice training programme and to continue working closely with colleges, schools and work placements – there are simply not enough UK applicants for entry level positions. Now, 85 per cent of our housekeeping staff are from the EU."
Bristol hoteliers are concerned there will be a weighting to prioritise high skilled workers.
"We know the Government is working with the agriculture industry to introduce a scheme to allow seasonal working. So why should the hospitality industry be treated differently?
More than 2.3 million people are employed in a hospitality sector expected to generate almost £100 billion this year.
John Dowling concluded: "Farmers are going to be able to get six-month contracts for part-time workers such as fruit pickers. The Mayor said this week that we needed a "thriving city centre and that this was critical to Bristol's future success" and help is needed to maintain our current service levels in hotels, bars, restaurants and of course the retail sector.
"Chefs and housekeeping staff are going to be very hard to recruit. Hoteliers across the UK are asking why the hospitality sector hasn't got the same deal?"