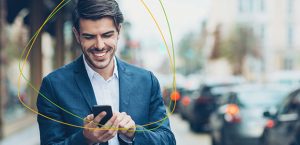 Research published by Textlocal, one of the UK's leading SMS marketing platforms, highlights how a third of consumers feel they are addicted to their smartphones, often having them to hand more than 16 hours a day.
Hoteliers can streamline guests' journeys online through the device they are using the most – from booking information and reminders, to in-hotel updates and passwords, through to guest satisfaction surveys at the end of their stay and repeat-booking offers, all sent straight to guests' mobile phones.
Of the consumers surveyed within the report, 85% welcomed appointment or booking reminders via SMS, nearly two thirds (60%) liked receiving discounts and half were open to receiving targeted promotions.  50% of customers were also happy to complete and return online surveys via their mobile phones.
Despite the significant rise of mobile phone usage, the report goes on to highlight how as much as 50% of businesses surveyed are currently not using SMS as part of their marketing strategies.
The research was commissioned to find out exactly how consumers are using their phones and what opportunity this presents for businesses.  The findings show that currently 85% of the adult population now own a smartphone, an increase of more than 63% in the last five years.  This figure is forecast to grow to 93% of adults by 2023, with the 55+ the fastest growing age group.
Some businesses have been quick to capitalise on the fact that smartphones have become an intrinsic part of everyday life by using the platform to build relationships and market promotions to customers via their mobile, with 60% of consumers saying they have received offers and two thirds (67%) claiming to have received booking reminders.
The benefit to hoteliers is clear as more than 42% of people who receive a SMS responded when requested – a higher rate than other communication mediums.  The report also highlights that more than a third of people (37%) have made a purchase or booking as a direct result of receiving a message from a business.
"The possibilities for hoteliers are endless," says Jason Palgrave-Jones, Managing Director of Textlocal. "Not only can businesses send welcomed offers, vouchers and booking reminders, but hotels can also engage with guests during and after their stay. Wi-Fi passwords can be sent to guests after check-in; hotel information such as meal times and restaurant availability can keep guests updated and allow those who wish to avoid busy times to do so; and incentives can be sent to past guests to encourage repeat bookings – all managed through their mobile handsets that we know are never far from their sides."
The full study and guide can be accessed for free here.