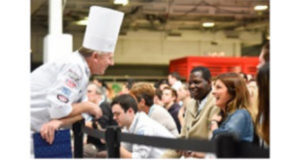 Returning for its 30th year on 1-3 October, The Restaurant Show is the ultimate destination for the hospitality industry to connect, celebrate and discover new products, services and suppliers. This year sees the return of Bar & Pub and the Catering Equipment Expo, all running alongside the main event at Olympia, London. Register for The Restaurant Show and you'll automatically have access to each of these impressive areas and over 450 industry suppliers all under one roof.
Food & drink for thought
A visit to The Restaurant Show wouldn't be complete without an opportunity to sample some special produce and try a few of the industry's newest food and drink launches. Look out for Drunken Dairy Ltd on stand UY51, where their selection of booze-infused dairy and free-from ice creams and vegan sorbets promises to be an ice cream adventure for adults.
Tap into the growing vegan market by visiting The Handmade Cake Company on stand UW70, where you'll find a newly launched Vegan Belgian Chocolate Cake, specially designed to be 100% vegan but tasty enough to appeal to all.
Find out about the latest revolution in the non-alcoholic drinks market with Mr Fitz Aqua Spritz on stand UJ71. This refreshing new launch is the combination of Aqua Spritz pure filtered still or sparkling water and Mr Fitzpatrick's botanical cordials, allowing establishments to boost their non-alcoholic drink offering with over 20 exciting new flavours.
Not to be missed is Real Kombucha on stand UW60. This unique drink is a light, tart, refreshingly carbonated, non-alcoholic brew made from exquisite fine teas from small tea gardens around the world. Its founders say it's brewed using fermentation techniques usually found in fine wines and the best craft beers, and that it can compete with the best fermented beverages, but with less than 2% sugar, less than 50 calories per bottle and only a remnant of alcohol.
There are many more launches to see and sample among the show's food and drink aisles, immerse yourself and you won't be disappointed.
Interior Inspiration
Refreshing your interior is as important as refreshing your menu, and as always there's a world of interiors inspiration to explore at The Restaurant Show.
The Peppermill Interiors stand UV10 is a great place to start. The company boasts over 20 years of experience in the industry and prides itself on being a little quirky, keeping ahead of trends. As well as contemporary furniture and lighting, they stock a vast range of industrial style pieces and one-off vintage finds and even offer a bespoke, made to order product range.
If sustainable design is a priority, check out Contract Furniture on stand GL11, who are one of the first UK furniture manufacturers to offer alternative, eco-friendly fillings and coverings as part of its vast range, alongside crafting chairs from sustainably sourced timbers.
There's plenty to see on the GO IN stand GJ20, from chairs to tables, bar stools, upholstered furniture and bench systems for indoor and outdoor use – there's something to suit all establishments. Highlights include the award-winning ELON table frame, designed to keep tables flat and steady even on unlevel surfaces.
Innovation and technology
Whether you're an independent outlet or a multi-site operation, The Restaurant Show boasts a whole host of innovative tech, solutions and services to help grow your business and improve efficiency.
Have you thought about upgrading or investing in a new EPOS system? You'll find industry leading providers to help you choose the right solution at the show, including Tierney's Hospitality IT Solutions (Stand GN31), 3POS (stand GL10), AccentPOS (Stand GN39) and Bleep UK Plc (Stand GJ31).
Meanwhile, with the new "Making Tax Digital" rules coming into play early next year, have you thought about how your business will cope? Meet the Nordens Chartered Accountants team on stand UU03 to find out how they can design a bespoke bookkeeping service to suit your business needs.
The show will be packed full of industry firsts, including Food Safe Systems Ltd on stand UL49 who will be showcasing the first ever stand-alone app to completely digitise and automate your food safety records and HACCP checks. Built by chefs for chefs, this revolutionary solution utilises Mobile, Wireless Temperature Sensor and Probe and Cloud Technologies to make food safety compliance quick, easy, secure, defensible and affordable.
Crucial catering equipment
Whether it's your fridge or fryer that could do with an upgrade, the Catering Equipment Expo is the place to get a great deal on the latest products.
Over on stand UG49, Foster Refrigeration are at the forefront of new technology, pioneering new standards in temperature control, hygiene, efficiency and appearance. The company is promising guaranteed quality and reliability at highly competitive prices, whatever the size and scale of your operation.
For moving, storing, displaying and holding hot and cold foods, Victor Manufacturing on stand UF51 can help. With 70 years of manufacturing experience, Victor is able to deliver an extensive range of options including hot cupboards, table top displays and modular counters, all suitable for a wide range of hospitality operations.
For the latest and most efficient warewashing systems, visit the Winterhalter stand UG29. On stand will be glass, dish and utensil washers to meet all levels of demand and each can be tailored to meet precise on-site conditions.
If you've ever wanted to learn more about modernist cooking techniques, from sous vide to using a smoking gun, then the sought-after Modernist Culinary Demonstration is a must. Demonstrations take place twice daily on the SousVide Tools stand GC21, under the direction of two award-winning development chefs. Register your interest and book online as places are limited and provided on a first come first served basis.
Don't miss the industry's ultimate diary date
Over the last 30 years The Restaurant Show has established itself as a major force in the hospitality industry. The inclusion of Bar and Pub and Catering Equipment Expo broadens the event's appeal and means there really is something for everyone. This is the place to find inspiration, learn about the latest trends, source products and suppliers or simply network with friends and colleagues. Visit this year's event and you're sure to leave enthused about the industry and full of ideas to take back to your own establishment. Register to visit for free at www.therestaurantshow.co.uk.