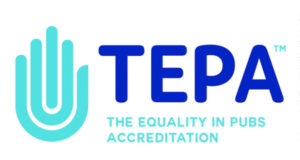 A new initiative to combat sexism, racism and homophobia in UK pubs, called The Equality in Pubs Accreditation (TEPA) has been launched this week.
Founder Jessic Mason says: "Pubs are for everyone. The word pub is short for Public House. People should feel that term is valid irrespective of gender, sexuality and race. They are a community hub for all and a place where everyone, whatever their identity, should feel is safe."
Publicans who would like to let visitors know that their pub has a zero tolerance policy on abuse in any of its forms can now sign up to TEPA and, from 2019, gain a window sticker and a plot on a map on TEPA website to let people know that their pub doesn't support homophobia, sexism or racism in any of its guises from neither its staff or it's drinkers. Joining TEPA means the publican has a civic duty to act should they recognise abuse in their venue.
The Accreditation has been pioneered to offer all people the freedom to visit the nation's finest pubs without trepidation and to remind the pub, beer and hospitality industry as a whole that inclusiveness is everyone's responsibility.
"Social equality is a human right. Let the best pubs, bars and taprooms, run by the most accommodating, kind and friendly staff identify themselves and help all people remember that the value of pubs is as much what they represent as anything they serve across the bar," said TEPA founder Jessica Mason.
BII Chairman Anthony Pender added: "Good pubs have always been an open and welcoming place for all whether it be for a quick pint after work right the way through to big celebrations. It's great to see this message getting affirmed further with the setup of TEPA and I look forward to seeing wider and further recognition."
TEPA will be open for submissions from publicans from September 2018 where after a shortlist will be drawn up and the first accredited TEPA venues will be visited and mapped before the close of the year.
From the spring of 2019, the TEPA map will become accessible to all – with its usefulness designed to help people navigate their way to places that are non-discriminatory.