Introducing Pergola's Margaritas, crafted with recipes originating from a traditional Mexican bar.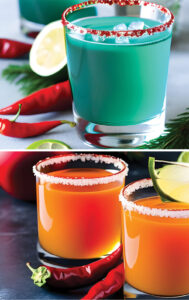 We have two amazing options:
The Poolside Margarita (19.2% ABV) –
A refreshing twist on the Classic Margarita, infused with Mint and Yuzu.
A tart yet delicious!
The Sunset Margarita (18.4% ABV) –
A delightful spin on the Tequila Sunrise, elevated with Cognac and Pomegranate.
The fruitier option!
The real Point of Difference of these Margaritas is their strength and versatility; they have been designed to work in multiple ways:
• Classic Margarita cocktails when shaken and served on ice.
• Frosty delights as Frozen Margaritas with crushed ice.
• Refreshing Long drinks by pairing them with your favorite mixers.
• Embrace adventure by using them as Shots.
It's many drinks in one bottle – perfect to tailor the drink to suit customers!
Why Pergola for the Catering Industry?
We combine 100% agave Tequila, premium Cognac, Cointreau, and orange liquors; twinned with fresh juices and plant extracts while being Free from Allergens, Additives and Preservatives.
Available in 500ml and 200ml bottles, the versatility and freshness of our Margaritas are perfect to provide perfectly mixed cocktails & drinks that:
• Save time
• Reduce wastage
• Ensure consistent quality
• Control the strength and the kind of drink
Here's to creating unforgettable moments for your customers!
info@pergoladrinks.com
www.pergoladrinks.com