You may have already noticed that CLH News is getting into the Christmas spirit, after all it is for the hospitality and licensed on trade sector the most important trading period in the year. And given the political turmoil these past weeks and an election to come we could all do with a bit of cheer and goodwill.
The run up to Christmas and New Year brings the punters to pubs and restaurants, providing a long-expected and welcome boost to drink and food sales before the lull of January.
Christmas 2018 saw pubs and restaurants enjoying the best of seasonal sales, and while the retail sector struggled, Britain's pubs and restaurants had cause to celebrate over the six-week Christmas and New Year period. Collective like-for-like sales were up a healthy 4.1% on 2017, according to figures from the Coffer Peach Business Tracker.
Both pub and restaurant operators saw positive sales growth over the festive season, with pubs enjoying the biggest uplift with collective like-for-likes ahead 5.1% against a 2.4% increase for restaurants.
London also benefited more than the rest of Britain, with like-for-likes over the six weeks to January 6 up 5.0% compared to 3.8% outside the M25.
December can also pave way for an even more profitable year ahead: with more people visiting the venue, businesses have a valuable opportunity to turn these one-off visitors into repeat customers. Providing everything goes to plan!
Bear in mind it won't just be menus consumers will be enquiring about when they think of booking Christmas parties or family get-togethers, consumers will be checking out food hygiene ratings before booking Christmas parties. The Food Standards Agency (FSA) constantly reminds consumers to pay attention to "scores on the doors" which rates food outlets on a scale of 1 to 5 and cleanliness, before choosing a festive place to eat. A survey conducted by the FSA analysing consumers' food related attitudes revealed that 4 in 10 of us are concerned about food hygiene when eating out, adding that 66% of people know the standard of food hygiene at a restaurant, cafe pub or takeaway can be determined by hygiene stickers/certificates found on the premises.
Laws state that businesses in Wales and Northern Ireland are legally required to show their rating so customers can clearly see it. However, businesses in England do not have to display their current rating, instead consumers need to go online to review the rating information for food businesses operating in England. Which means that the lovely exterior of a pub/bar restaurant might contradict what's going on in the kitchen.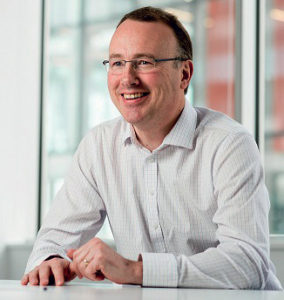 David Davies, Managing Director of Checkit, looks at why food safety should be under the spotlight this season:
In order to capitalise on the demand and optimise profitability, staff can be stretched to the limit, which may mean compromising on quality, hygiene and health and safety. This can be an issue especially for many smaller businesses that lack the corporate support larger chains rely on to enforce standards. Faced with the challenges of planning and managing the busy season, food safety and hygiene can easily slip off the radar: under increased pressure, kitchen staff may forget tasks or put off filling in the food safety records until the end of the shift or bar staff might prioritise serving customers over daily cleaning tasks, compromising compliance.
This presents a real risk to the future of the business. In 2015, a customer died and 33 others fell ill after eating Christmas lunch in a pub, which was later found to have falsified food safety records relating to the way the turkey meat was cooked. As a result, the manager and chef received prison sentences and the pub chain was fined £1.5 million.
While this is thankfully an extreme example, it is clear to see how devastating the consequences of food safety failures can be, regardless of the size of the business. Research by Checkit revealed that 75 percent of consumers would never visit a venue that had been implicated in a food safety incident. It is easy to calculate what losing three quarters of potential customers would do to the profitability of any business.
Even if no incidents occur, lapses in standards are not ignored by customers. Over 60 percent of diners would not return to a restaurant if the premises were dirty. Yet with staff rushed off their feet catering for large parties, often supported by seasonal part-time workers with little or no hygiene training, it can be a challenge to ensure that the essential compliance checks and cleaning tasks are performed on schedule. With managers often just as busy, possible problems might not be uncovered until it is already too late to correct the issue.
So how can managers ensure that all the boxes are ticked during the Christmas rush? When it comes to compliance, knowledge is power. Managers need to have complete visibility over all critical compliance tasks to be able to identify potential issues and take immediate action, before customers or staff are put at risk.
Unfortunately many pubs still manage critical food safety and cleaning tasks using paper-based hygiene records, which provide poor visibility over the status of the jobs carried out. Replacing paper records with a digital real-time food safety management system will give businesses the visibility needed to optimise compliance and enable quick reactions to possible issues.
During busy periods, real-time food safety management systems provide invaluable support to the manager. A digital system schedules all the necessary food safety and temperature checks on to a handheld device, which then prompts staff to perform them when they are due. This ensures that staff are reminded to complete the tasks on schedule, and with no cumbersome paperwork to fill in, are able to get quickly back to their core duties. The ability to view the compliance status of multiple sites, in real time, in the cloud-based control centre eliminates the time otherwise spent trawling through compliance paperwork.
As Christmas Day falls on a Wednesday this year, the weekend ahead looks set to be hectic, providing pubs a great opportunity to maximise last minute food and drink sales. With the help of real-time food safety management systems, such as Checkit, businesses of all sizes can reduce the stress of the season and focus on capitalising on the Christmas feel-good factor.
When an inspector calls
Most people know that the food hygiene grading system by the FSA (Food Standard Agency) runs from 0-5. However, as highlighted by our recent appearance on BBC Breakfast, and detailed by our STS Food Safety Consultant, Annabel Kyle, the ratings are composed of cleanliness levels, documentation and the layout of an establishment. It's therefore, not as clear cut as to whether the cutlery is clean or whether there's a dead rat in the jam.
Having said this, the score is still a very fair indicator of the overall 'ethos' of an establishment. We spoke to Fiona Sinclair, Director of STS Food Safety, to find out just what needs to happen for an establishment to close down, and why some of them can stay open with a '0'.
"To close a premises an emergency prohibition notice (EPN) needs to be served by the EHO (Environment Health Organisation). Service of EPN's is governed by legislation and codes of practice, and closure is only permitted where there is an 'imminent risk' to public health.
Examples include uncontrolled pest infestation, an outbreak arising from premises or even flooding with sewage etc. So, a food business can be poor, but if there is no 'imminent risk' they cannot be closed. Instead, other enforcement powers can be exercised e.g. prosecution, service of improvement notices, but they won't be shut down. A '0' grading will also be subject to routine inspections at the maximum frequency of 6 months, potentially with revisits in between."
Another common misconception is whether establishments get prior warning of when an EHO is visiting the premises to conduct checks. Fiona explains what powers they have when conducting checks:
"EHO's have a 'power of entry' and must be permitted entry at any reasonable time. Generally this means when anyone is present on the premises. To not allow an EHO in is an offence called obstruction, for which the business can be prosecuted. Most EHO inspections are unannounced, although some local authorities do announce their inspections to make sure the manager or owner is available to speak with."
Bob Mackay, a qualified Environmental Health Practitioner and Technical Director with Navitas Group has previously called for the mandatory display of food hygiene ratings right across the UK which he says creates consistency and greater transparency for consumers and raising food hygiene standards.
He comments: "The Food Standards Agency has been making diners aware of how and where they can check food hygiene ratings and should create the impetus for food outlets to raise their standards if they want to be listed by achieving a minimum of 3 stars. However, as our research shows, food outlets should be aiming higher if they want to attract and retain customers and should ideally be aiming to beat or match the competition by targeting a 5-star rating."
According to Bob raising and maintaining food hygiene standards should be a key focus for any food business. He concludes: "Eating out has never been so popular and the choices so varied. Our research shows that people do want to make informed choices and be confident that the food they're eating away from home has been stored, prepped and cooked safely and correctly and to good hygiene standards."
Allergens-when mistakes can prove fatal
The very tragic death of Owen Carey at Byron's Restaurant could have been avoided by using a simple app, says Julie Moran director of Allergymenu.
"Restaurants can no longer use the excuse that they can't provide a clear and easy to use information to their customers."
"We launched Allergymenu.uk earlier this year after discovering the shocking lack of information and poor communication in restaurants to provided allergen information along with helping many of those with complex food preferences."
"Mistakes can be made that can be life threatening, however this app allows the chef to control directly the information provided to the consumer, reducing the risk of error significantly though staff communication and putting the customer in control of their choices."
Allergy menu gave a talk to CIEH (Chartered instituted of Environmental health) to help raise awareness within the industry that there is now a simple and cheap solution to the problem, and it will save lives.
How it works
The App allows customers to filter the restaurant's menu at the click of a button by the full range of legislated allergens, allowing to view the menu in an easy way. The Chef can manage all the dish information and allergen information to ensure its accurate and can be updated at a moment's notice when a dish changes, so its always up to date.
Sharon at Arbuckle's Restaurant in Norfolk have said:
"Brilliant app worth every penny, your customers will be delighted with this easy way to sort your menu into the dishes they can select avoiding their individual allergens. Not difficult to enter all your info and once loaded is a brilliant tool loaded onto a tablet or ipad in your business.. This little app has put our business ahead of the rest and proved to be a real asset, great opportunity to stand out from the crowd."
Flexible training that suits you and your business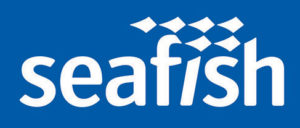 Do you want to motivate your workforce, improve the experience of your customers and ensure your business reputation is first class?
Successful food businesses are often the ones that invest in developing their people with regular learning and training.
Seafish, the public body supporting the £10bn UK seafood industry, offer a variety of flexible food safety and health & safety training programmes to suit the needs of people working in a busy seafood business.
Our Elementary level programmes can be studied using our open learning self-study workbook. The food hygiene pack is available in Lithuanian, Polish and Portuguese as well as English. Once a candidate has completed their study programme they can take the short invigilated exam that leads to a nationally recognised and regulated qualification. The exam is a 30 question multiple choice test and our UK wide community of invigilators can usually organise an exam onsite at your business at a convenient time.
All candidates get access to a free online version of our open learning modules and an online testing portal to help them get ready for their exam, or to generate a company training record.
Candidates can also study our Introductory level food hygiene in the seafood industry programme, a short three to four hour taught course, delivered at a venue that is suitable to your business. This is ideal for a group of up to 15 trainees and can be taught in eight languages including English, Welsh and Polish. Trainees complete a 20 question multiple choice exam at the end of the course to achieve a nationally recognised and regulated qualification.
If you are the owner, manager or supervisor, you may wish to consider our Intermediate food safety qualification. This online eLearning programme allows the student to study at work or at home which means you can learn at a time, place and pace that suits you. A tutor is also allocated to provide telephone support. No travelling to college is involved and when you are ready, we'll organise the exam at a place and time that is appropriate to you.
Learners who pass any of the exams for the programmes outlined above receive a nationally recognised and regulated qualification from Seafish and the Royal Environmental Health Institute for Scotland.
To book a course, email onshore@seafish.co.uk or telephone 01472 252300.
Keeping Clients clean and fresh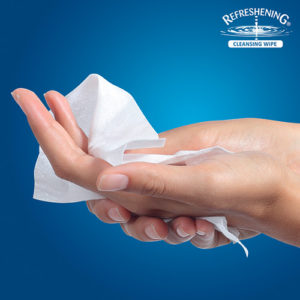 With up to 85% of customers considering cleanliness as important as the quality of food served a great way of enhancing customer experience is with the use of refreshing and hygienic wipes, says Luke Woodward of Refreshening. Refreshening, a leading supplier here in the UK of the highest quality of individually wrapped cleansing wipes providing an effective and hygienic way for your clients to cleanse & refresh, whether it's on the move or to freshen up before, during or after they eat.
"Our individually wrapped cleansing wipes are becoming increasingly more popular because they are convenient, time saving and very cost effective. These are used as an alternative to dry paper napkins which are not always suitable and sometimes don`t clean thoroughly."
"Hygiene and cleanliness are an ever-growing concern within all food service industries from fine dining to street food. People tend to wash their hands before, during and after meals depending on what food is served and this facility may not always be available or convenient to them."
"We can offer a variety of different size cleansing wipes and also personalise the outer wrapping for a fantastic marketing tool to promote your brand. Choose from our stock ranges or personalise the outer wrapper for a more personal touch to promote your brand."
Refreshening is leading the way again by introducing a new unique cleansing wipe material that is actually 100% biodegradable, alcohol free and 100% flushable.
Radisson Blu ADOPT TME Food Temperature Monitoring
Upscale hotel chain Radisson Blu Edwardian, has rolled out TME's MM7000 Combined Temperature Monitoring System at 12 of its London hotel restaurants.
"Now we can track all temperatures from one location: daily spot checks and 24 hour monitoring. All records feed into one system so it's much easier to keep on top of everything," says Radisson Blu Edwardian Central Maintenance Manager, Imtaiz Ahamed. "We can resolve food safety issues more efficiently too; alarms in each kitchen ensure chefs knows immediately when there's a problem – like a fridge door left open – plus we get text warnings off-site so staff can be alerted remotely too."
Food safety in a flash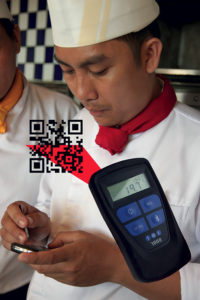 Imagine instantly recording the temperature of everything in your kitchen: fridges, freezers, ovens, food deliveries – even an individual burger or plated meal – all in a flash: no need to write anything down or key in data, just scan a barcode and move on.
Add to this, the knowledge you will receive instant alerts to out of temperature events across multiple sites, and you begin to see the potential of TME's MM7000 Combined Temperature Monitoring System.
The MM7000 System offers integrated paperless spot checks AND 24 hours monitoring, pairing handheld barcode scanning thermometers with fixed wireless radio monitors. Results are tracked remotely across a number of sites, with problem temperatures communicated via Bluetooth or radio signal both on-site and off-site via on-screen prompts, audio visual alarms, text and email.
How does the system compare?
Other paperless recorders still rely on screen input, increasing time, cost and the potential for human error. Plus their pre-set menus don't offer the flexibility of personalised barcodes. Barcodes are universal, free and easy to produce, and can include high/low alarms and onscreen prompts. Unlike others, TME's Bluetooth barcode thermometers also record with or without Wi-Fi connection.
What about versatility?
Open source software and compatibility with commonly used office database systems makes the system easy to manage and integrate. Its modular approach, involving interchangeable temperature probes, is suitable for all commercial kitchen applications – from sous vide cooking and regeneration to cold store monitoring and goods-in.
Is the system affordable?
Depending on operation size, costs per site can be as low as £450 for a fully integrated system.
MD, Tom Sensier: "Our paperless system records not only the date and time of every temperature test but also the exact identity and location – whatever and wherever it is. Pair this with a powerful network of radio transmitters and fixed sensors and you have the ultimate in temperature due diligence."
allergymenu.uk/menu
www.seafish.org/training-onshore
www.tmethermometers.com
www.refreshening.co.uk
Top tips for food outlets to improve and secure food hygiene ratings:
Take pride in what you do – smart clean staff and well maintained and clean premises can only give a good first impression.
Education is key – ensure management and staff are trained to a level that ensures they may carry out their work with competence and confidence. Level 2 food hygiene is considered the standard level of training for most food handlers, with managers/supervisors benefitting from completing Level 3 managing food hygiene.
Ensure that all foods prepared and served are covered by a HACCP (Hazard Analysis Critical Control Point). This appears a bit of a mouthful and the formal terminology can cause some people to shy away from it. In simple terms, a HACCP is a formal process specifies the controls necessary to keep the food safe along its entire journey from the moment of purchase, all the way to the point of sale.
Follow food safety rules to control the risk of cross-contamination. Segregate raw and ready to eat foods during storage and provide separate raw and ready to eat food preparation surfaces and equipment.
Monitor and maintain the chain of temperature control. Check and record your storage, cooking and display temperatures to demonstrate that all is under control.
Ensure your staff have the confidence to implement and record corrective actions when controls have not been achieved. This may mean rejecting food deliveries that do not meet temperature requirements, or food not achieving correct cooking temperatures.
Keep all records up to date, logically filed and readily accessible – lost or poorly kept records do not give a good impression for confidence in management, and can be one of the drivers of a low food hygiene rating.
Introduce a proactive pest control contract with a competent contractor. Why wait for problems to develop when you can receive advice on proofing and general housekeeping arrangements, and have measures already in place to deal with 'lone intruders' before they take hold.
Consider going digital and getting the edge – installing a digital temperature monitoring system provides a reliable extra pair of hands for a fraction of the cost so your team can focus on preparing and serving safe food to your customers.
Plan ahead and invest in your businesses' reputation. Seek professional advice from one of Navitas' qualified Environmental Health Practitioners who can advise on, and verify, the effectiveness of your food and safety procedures.