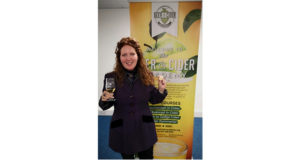 Britain's Beer and Cider Academy has announced the UK's first accredited Pommelier (cider sommelier). It is award winning drinks educator and writer Jane Peyton.
Jane is the founder of the School of Booze and already an accredited Beer Sommelier who also has a wine tasting accreditation from the Wine & Spirit Education Trust.
The Pommelier accreditation scheme was devised and taught by cider expert Gabe Cook, also known as The Ciderologist.  It was launched by the Beer & Cider Academy in January 2018 and entails passing three courses before sitting an assessment where a range of different styles of cider are blind tasted and must be correctly described and identified. Cider advocacy and cider and food matching ability must be proved.
The Pommelier qualification is the first of its kind in the world and reflects the growing sales demand for cider, which continues to flourish.
Jane Peyton commented "Anyone who makes, markets and retails cider should send their staff for Pommelier training.  It gives people the ability to understand, describe and advocate what they are selling. Educated staff are more effective staff.
"Cider is akin to apple wine – made from the fermented juice of pressed apples.  The certification programme was, rightly, challenging but now I am an accredited Pommelier I can advocate for cider and enlighten people about its diversity, how to match cider and food, and its sheer wonderfulness. With qualifications in beer, wine and cider, I'm now able to provide an even more comprehensive package of drinks training, tasting, education and appreciation for my trade and public clients and definitely intend to be a roving ambass-cider for the apple!"