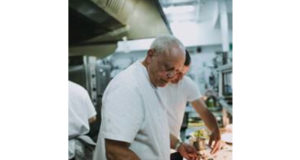 John Burton-Race has announced his resignation from his role as Group Executive Head Chef Consultant at the Richardson Hotel Group, and as chef-patron of the eponymous John Burton-Race Restaurant with Rooms, adding that he is seeking "a new venture".
Only twenty months after the Richardson Hotel Group reinvented the former 'The Grosvenor' hotel into the 'John Burton-Race Restaurant with Rooms' – including a large scale refurbishment and rebranding, Burton-Race has resigned from his position and is now looking for new opportunities, within the trade globally.
Burton-Race, who has held 2 Michelin Star's (Quat'Saisons, L'Ortolan, the New Angel), and has 35 years of professional chef experience, including running, opening, and training in a multitude of restaurants, has made this decision in order to find his next executive role. Burton-Race has commented,
"I am saddened that I have had to make the decision to leave the group, but I am excited about finding my next venture and look forward to seeing what the future holds for me. I have shown that I can rebuild an average restaurant into a fine dining establishment within a short space of time- if I am given the opportunity and the backing''
The John Burton-Race Restaurant with Rooms will now need to be re-branded without him, as John no longer has any involvement with the Richardson Hotel Group.