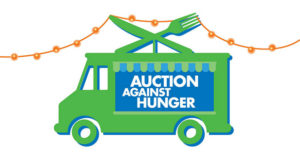 Tickets include a mouthwatering seven dishes and five drinks from your choice in the line-up, as well as unlimited snacks
Auction Against Hunger has been running in London for five years and this is the first time the event will take place in Manchester
MANCHESTER// Upper Campfield Market Hall, Deansgate, is to house some of North West's top chefs, restaurants and bars for a huge food and drinks party to raise money for international charity Action Against Hunger's life-saving work around the world.
Some of the North West's most well-loved chefs will be participating in the event on Thursday September 6, including Simon Rogan, Luke French, Anton Piotrowski, Mary-Ellen McTague, Simon Wood and Josh Eggleton. Restaurants with dishes at the event include The Rabbit, Ox Club, Fazenda, Maray, Elnecot, Beastro, Firebird Hope, Bacaro and Finca.
Tickets include a mouthwatering seven dishes and five drinks from your choice in the line-up, as well as unlimited snacks.
Headlining the event, which is being sponsored by Manchester Confidential, will be Danielle Moore, from Crazy P, ACR Sound System, Clint Boon, Gaz Whelan, Argh Kid and Winachi Tribe.
Mary-Ellen McTague chef said: "It's going to be a really special evening. The lineup of chefs is absolutely amazing. Some of the North's best chefs are coming along, giving their time and their talent. The whole community of chefs and restaurateurs in the North coming together to raise funds is a really lovely thing."
James Bates from Maray restaurant said: "Food is such an essential part of people's lives and we're fortunate enough to make our living selling food to people who can afford it. For me it follows that it's our duty to give something back to people who aren't as fortunate as ourselves and our guests."
Winachi Tribe said: "It's the first Auction Against Hunger event in the North and it's in Manchester. And with the top lineup that's going to make it the most exciting charity event of 2018. It's a big celebration of the music and food scene in the North so it's going to be a top day and night. The streets of Manchester are going to be moving and grooving."
Champagne Taittinger, supporters of Action Against Hunger for over a decade, will host Taittinger Time: a wheel of fortune style game where guests can win a glass, bottle or Magnum on the spot.
There will also be a live auction hosted by Tom Best, who became one of Christie's youngest auctioneers in 2012.
Tickets are £50 per person. All proceeds will go directly to Action Against Hunger and can be purchased from: https://auctionmcr.eventbrite.com/?aff=AAH