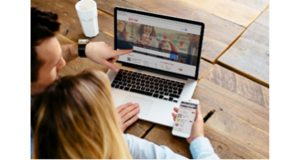 Just Eat, the for online food delivery, has announced plans to include the official Food Hygiene Rating of each of its UK restaurant partners directly on its platform both in-app and online.
Following consultations with the Food Standards Agency (FSA) and Chartered Institute of Environmental Health (CIEH), Just Eat will launch its trial of the initiative in Northern Ireland in early 2019 with over 600 restaurants. Following a full evaluation of the trial, a national roll-out will be implemented later in the year.
Graham Corfield, UK Managing Director at Just Eat, commented: "Publishing restaurants' FSA hygiene rating both in-app and online will make it much easier for customers to make informed decisions about the takeaway choices that best suit them. As a leading player in the sector we also have a constantly growing programme of activity to support and educate our 29,000 restaurant partners about improving food hygiene standards. We are always looking to do more for both our partners and customers and displaying hygiene ratings will provide better access to this important information than ever before."
Whilst Just Eat already provides a link to the FSA's website on each restaurant partner's menu page so that customers can access food hygiene ratings, the modification will make ratings instantly clear in-app and online. Just Eat also displays more than 13 million customer reviews on its platform.
This initiative builds on the work Just Eat already does to improve hygiene standards across the takeaway industry. For example, the company already offers its 29,000 UK restaurant partners access to food hygiene training (level 2) and certification, which includes training on food handling, food safety management, and food hygiene law. In addition, all partners can access resources from the FSA and NSF, the leading global Food Safety consultants, through Just Eat's Partner Centre.
Anne Godfrey, CEO of the Chartered Institute of Environmental Health (CIEH), said: "This is a positive step in the right direction from Just Eat. Openly displaying food hygiene ratings next to food outlets on their website will not only help consumers make the best and safest decision about where to eat, but also promote best practice.
"CIEH has been calling for transparency around food hygiene ratings, and is campaigning for their mandatory display in food outlets across England. As such, Just Eat's announcement is very welcome, and we look forward to working closely with them going forwards to improve standards across the industry."
Heather Hancock, FSA Chairman said:"This is a constructive and welcome commitment from Just Eat. Displaying food hygiene ratings digitally on the Just Eat platform will mean that consumers see them at the point where they order food. They will know the food hygiene standards in the places their food is coming from."