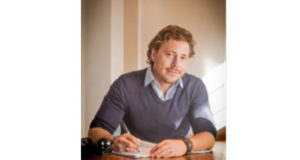 Founder of the Koh brand and owner of Lion Consultancy, Andy Lennox, has announced that he will be launching a new restaurant venture which is set to open this November, with its first site to be based in Ashley Cross, Dorset, with further sites currently under negotiation.
Andy is known for his entrepreneurial background in the restaurant trade, with his successes down to his unrelenting drive to innovate, together with his dedication and passion. Now, almost a decade after founding the Koh brand – which began in the Bournemouth area and now has 13 restaurants across the South – he has decided   it is the perfect time to introduce his next concept to the market.
Andy announced "At last I can let everyone know that it's official and I'm off on my latest new adventure. I have the keys to the first premises, we have boots on the ground and I'm looking forward to seeing my newest vision take shape – a new restaurant brand is about to be born! I've secured a great first site – the perfect blank canvas to breathe life into my new concept."
Andrew plans to open several restaurants across Dorset over the next couple of years. "I've chosen Dorset to launch the concept as it's my home and I'm very     familiar with its vibrant foodie market, I have all of my family here and I think it's quite appropriate for the brand to be born where I first began 10 years ago. I have great confidence in the new brand and the heights I can take it to, this new foodie revolution is set to open your minds and tantalise taste-buds with a whole new dining frontier."
"Excitement is definitely building at the thought of revealing the concept very soon and to introduce a spectacular cuisine that offers a unique blend of flavours, brought together by trading links over the centuries. I am confident that Dorset will love the seasonal, fresh produce and its hidden depths, as much as I do. The restaurant     industry is about passion, innovation and excitement and that is what drives me to continue to bring new ideas to the market, it's what we do" said Andy.
"This new venture marks the beginning of a new chapter for me. Not only do I aim to transport my customers to this new foodie frontier, I'm also looking forward to growing the brand from its small roots into different areas of the hospitality trade.
We will be open for breakfast, lunch and dinner, with three very defined menus and atmospheres. Consumer trends are changing, and I believe the area is ready for this totally new concept that will deliver a unique experience, vibe and brand, and a high- quality product, with great provenance. I'm positive our customers will love it."