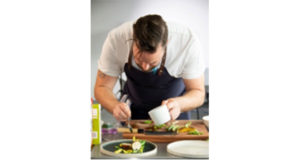 A team of award-winning chefs are preparing for a unique event to be held on October 4th which will enable diners to take part in a live, interactive cooking and fine dining experience.
London Kitchen Social Live will be held at the Bella Vita Academy in East London when a seven-course tasting menu will be cooked and prepared in front of up to 50 guests by some of the capital's top chefs.
Believed to be the first event of its kind in London, dishes will be created live by Anthony Raffo from Auberge du Lac; private Cordon Bleu chef Daniel Britten; winner of the BBC's Big Family Cook Off, Lorna Nanda Gangotra; Baxterstorey Executive Group Hospitality Chef, Chris Terry; and Dave Pigram, Executive Chef of David Pigram Bespoke Dining.
London Kitchen Social Founder Majella O'Connor, who is also company director and lead photographer at Pavlova & Cream, came up with the idea of providing a unique cooking demonstration and fine dining experience in response to demand from food and cooking enthusiasts keen to learn from the experts whilst sampling some new, imaginative and original dishes. Her good friend and business associate, Dave Pigram, immediately offered his support for the idea and between them, the idea became a reality.
London Kitchen Social Founder Majella O'Connell comments: "After an assignment at San Sebastian Gastronomika, I was inspired by seeing queues of eager chefs waiting in line to see their favourite chefs and actually get to taste their food. I then had this 'very bonkers idea' to hold a similar event. Luckily for me, Dave saw something in my idea and pledged his support. We are incredibly excited about this unique and ground-breaking event"
"We finally decided to put some plans into action and hope it will be popular with both chefs attracted by the techniques of those they respect and admire and food lovers and suppliers who really just want to see and taste for themselves how ingenious dishes are created," she adds.
The array of dishes to be prepared for the event will include seasonal foraged ingredients, unusual cooking techniques and plenty of adventurous flavour combinations, combined with a pinch of ahead-of-the-curve trends.
The live cooking and dining event aims to inspire and delight, with good food that pushes the boundaries of taste being the common interest among guests attending.
London Kitchen Social exists mainly to provide inspiration and support for up and coming chefs, so limited number of tickets will be offered free to colleges involved in hospitality and culinary arts in the Greater London area.
London Kitchen Social Live takes place from 4.30pm to 9pm at the Bella Vita Academy, 11c Dock Street, London E1 on Thursday 4th October 2018