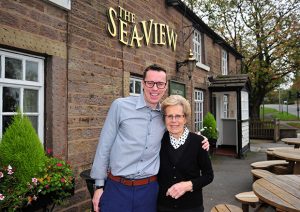 Congratulations are in order for 83-year-old Jean Thompson, who is celebrating 40 years* at The Sea View in Whittle, a pub she ran with her husband Frank, who died earlier this year, and which is now run by her son Lee.
Jean, who was brought up in Chorley and visited The Sea View as a child, always knew this was the pub for her and is still to be found every lunchtime helping out behind the bar seven days a week.
She raised her two sons at the pub instilling her passion for pubs in her youngest, son Lee.
Jean said: 'My aunty lived in a cottage in Whittle, so we came here a lot. My dad used to play dominoes in what was then the snug, while I played in the fields outside. You used to be able to see Blackpool Tower from the pub back then, so he told me to say to people in Chorley that we'd been to Blackpool for the day.
'Frank and I also lived in Watkins Road when we first married aged 21. We wanted The Sea View back then but didn't have the experience.   So, we ran pubs in Preston first, which means I've been working in pubs for 60 years!
'The Sea View was my dream pub because I had so many memories of it and knew the people all around.   When we took it on we had a cabin selling coffee and dinners for the workmen who were building the housing. Now we do the same for people living in the houses.
As for the future, it's business as usual for Jean. "I retire five times a year and come back the day after every time!"
Lee, who took over the helm 12 years ago said: 'I'm really proud of my parents and the fantastic pub they've created. My mother incapsulates what makes the Sea View special – great service and warm and welcoming smile.   I've taken up the baton now and want to continue to keep The Sea View at the heart of the community for many years to come.'
Tracy Bickerdike, business development manager for Star Pubs & Bars said:
'Jean and Frank have created a wonderful pub, which has stood the test of time and is much loved locally. This is down to their and Lee's ability to move with the times. We wanted to mark this major milestone for Jean. Sadly, Frank isn't with us, but we thought it only fitting that he should be commemorated too. Well done Jean, and also Lee who has spent 16 years himself working behind the bar at The Sea View.'