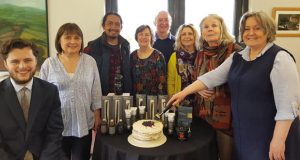 LittlePod Ltd is one of eight companies in the UK to win the Queen's Award for Enterprise in Sustainable Development 2018. The LittlePod Company provides natural ingredients to home cooks, professional chefs and manufacturers. The company was launched in 2010. The unique vanilla paste in an innovative tube has been hailed as an essential store-cupboard ingredient.
97% of vanillin used in the West is artificial. In 2010 LittlePod realised that people had lost touch with the story of vanilla, and that real vanilla could be lost within a generation. It was important to educate and raise awareness of the plight of the vanilla farmers on the Equatorial Belt who cultivate the orchid and whose livelihoods are threatened.
Therefore LittlePod initiated:
• A #CampaignForRealVanilla,
• A National Real Vanilla Day (17th October)
• A book – "Vanilla, Cooking With One Of The World's Finest Ingredients" by LittlePod MD Janet Sawyer (pub. RPS)
• An innovative tube of vanilla paste – selected as essential store-cupboard ingredient by Speciality Food Magazine (2018)
Over 8 years LittlePod's determination to provide natural real vanilla has led to a collaborative community project with their own vanilla farmer for reforestation, to ensure a sustainable future for vanilla.
On presenting the Queen's Award, David Fursdon, Lord Lieutenant of Devon said;
"Isn't it fantastic, that a small company in a village in East Devon can reach out and impact on the world whilst doing social good at home."
Visit www.littlepod.co.uk for further details.