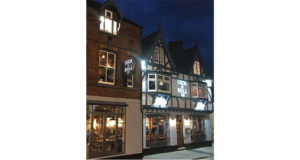 Home to filthy burgers, kick ass chicken and liquor.  Stourbridge's popular Cock'n'Bull is celebrating its first birthday in style this month. The pub was amongst the winners at the prestigious Great British Pub Awards 2018 last month, scooping the Admiral Taverns' Pub of the year 2018 Award. The pub beat off some stiff competition from across the Admiral Taverns estate, but it's consistent and exemplary focus on great food, drink and Hospitality saw it take first place.
The pub opened in September 2017 under experienced licensees Jason Green and David Salmon, following an investment of £373,000 by Admiral Taverns. The hardworking team at the Cock'n'Bull have built up a reputation for the best burgers, the most delicious chicken and the most innovative drinks menu around. During their first year in Stourbridge, they have served a whopping 50,000 burgers, 10,000 sides of halloumi fries and over 10,000 zombie cocktails to their guests. No Cock'n'Bull there!
Keen to build the business even further, a further £40,000 has been invested to transform the pub's outside area. The brand new urban themed courtyard creates a great, contemporary space where guests can dine alfresco, but in true Cock'n'Bull style.
The team are a year young this autumn and are celebrating in style on Thursday 11th October with funky local band Liquor and Poker, the best house DJ around, stunning signature cocktails and a show stopping selection from their menu. The pub will be raising money on the night for Mary Stevens Hospice and will be asking for a small donation on entry. Generous with their portions and their proceeds the pub will be matching any money raised on the door.
Commentating on the award and the Cock'n'Bull's birthday, licensee David Salmon said:
"What a treat to win Admiral Taverns pub of the year award 2018! A great birthday present for the pub and recognition for all the team. Loads of stuff has gone down this year, it's been a whirlwind, but we've created a pub where our guests can have a great time, eat, drink, relax and let loose in a place that's not like your traditional pub. Now our courtyard is ready to rock n roll there's even more for people to enjoy so I recommend coming to see us soon and specially to help celebrate our birthday celebrations on the 11th October!
Commentating on the pub, Business Development Manager at Admiral Taverns, Rachael Dixon said:
"The Cock'n'Bull is a rocking pub and a fantastic place where locals can relax and hang out after work or at the weekend. They have created a unique experience with something a little bit different for customers! I am delighted that they won the Admiral Taverns Pub Of The Year Award and it is testament to all of the hard work that they, and their 25-man strong team have put into the pub. The urban courtyard is very cool and a perfect backdrop for their tempting cocktails to be enjoyed! Happy Birthday to the Cock'n'Bull and enjoy your party!"