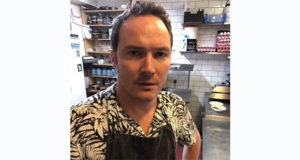 A London chef the chef has been dismissed from his job after posting cooking videos of him mocking Asian people and their culture by using a fake accent.
Shaun Beagley, who worked as a chef at Som Saa, a fashionable Thai restaurant in East London, created a dozen videos on his channel teaching people how to cook particular Thai dishes while imitating an Asian accent purposely switching the pronunciation of words with the letter "L" with "R."
The chef and the restaurant found themselves at the centre of a Twitter storm which ultimately led to his dismissal.
The restaurant released a statement on Twitter which read: "Som Saa is a restaurant born out of a love and respect for Thai food, Thai friends and Thai culture. What is more, our team has and always will be made up of many other nationalities too.
"Due to the unacceptable comments made by a member of the team on social media he has been let go. The comments are not those of Som Saa or any members of the Som Saa team. We would like to wholeheartedly apologise for any hurt and upset that the comments have caused."