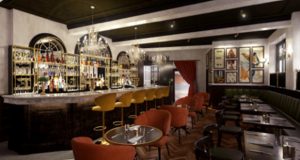 London pub-operator, Three Cheers Pub Co, is set to reopen The Bedford in Balham on 3rd December post a multi-million-pound investment. This will be the ninth site to be operated by the award-winning London pub group and their second opening* for Six Cheers Ltd, their 'Managed Investment' partnership with Ei Group.
The extensive renovations by Concorde BGW to the 22,000 sq. ft. pub, grass-roots music venue and London's longest running comedy club will include an £80,000 state-of-the-art sound system. The renovations will also extend to the venue's five bars, four private rooms, a ballroom and a 250-capacity live music club as well as 15 individually designed en-suite bedrooms.
The Bedford will be managed by husband and wife team with Head Chef Aaron Cakebread (previously of The Bolingbroke) in the kitchen and Jessi Borhart, front of house.
Having played host to some of the country and world's best-known musicians and comedians including Ed Sheeran, Sam Smith, Eddie Izzard, Michael McIntyre and Frank Skinner, The Bedford will continue to champion up-and-coming talent."I loved playing The Bedford in Balham – it was such an important venue on the circuit and always had great acts playing every night.  It holds fond memories for me and I look forward to coming back one day." – Ed Sheeran.
Tom Peake, Co-Founder of Three Cheers Pub Co, said: "We are thrilled to have the opportunity to restore The Bedford to its former glory. With its rich grass-roots music history, as well as its renowned reputation in the comedy world, it's great to be giving the venue a new lease of life."
Nathan Wall, Operations Director for Ei Managed Investments, added: "Six Cheers Ltd continues to be an exciting partnership for us and the relaunch of The Bedford is a landmark moment as it will represent our largest ever site. The team has done a wonderful job transforming this iconic site into a pub that meets all the demands of the modern-day consumer and we're happy to welcome this unique venture to our Ei Managed Investments portfolio."